Researchers unveil new gene subgroup in prostate cancer
Prostate cancer researchers have drawn a molecular portrait that provides the first complete picture of localized, multi-focal disease within the prostate and also unveils a new gene subgroup driving it.
The discoveries, published online today in Nature Genetics, are a further step along the road to personalizing prostate cancer medicine say study co-leads, Dr. Robert Bristow, a clinician-scientist at Princess Margaret Cancer Centre, and Dr. Paul Boutros, an investigator at the Ontario Institute for Cancer Research.
"Our research shows how prostate cancers can vary from one man to another - despite the same pathology under the microscope - as well as how it can vary within one man who may have multiple tumour types in his prostate," says Dr. Bristow. He goes on to say, "these sub-types may be important to determining the response to surgery or radiotherapy between patients."
The study involved molecular profiling of 74 patients with Gleason Score 7 index tumours. (Gleason is the classification system used to evaluate aggressiveness in prostate tumours). Of these, whole-genome sequencing was done on 23 multiple tumor specimens from five patients whose prostates were removed at surgery. By carefully analyzing the genetics of each focus of cancer within each prostate, the researchers could assign "aggression scores" to each cancer which revealed that even small cancers can contain aggressive cells capable of altering a patient's prognosis.
Dr. Boutros, explained that the more detailed analysis clearly identified that two members of the MYC cancer gene family were at play in disease development, and that one of them - "C-MYC" - was the culprit driving aggressive disease. The other one - "L-MYC" - is already known to be implicated in lung and other cancers.
"This discovery of a new prostate cancer-causing gene gives researchers a new avenue to explore the biology of the disease and improve treatment," says Dr. Paul Boutros, a principal investigator at the Ontario Institute for Cancer Research.
"By showing that mutations in prostate cancer vary spatially in different regions of a tumour, this study will aid in the development of new diagnostic tests that will improve treatment by allowing it to be further personalized."
Dr. Bristow says about half of all prostate cancer patients have either C-MYC or L-MYC mutations, but never both: "Our findings suggest we are getting closer to subtyping prostate cancer based on which gene is present to determine a patients' disease aggression in terms of the risk of spread outside the prostate gland at time of treatment. In developing this research tool into a clinical test within three years, we hope to inform doctors and patients about specialized treatments for each prostate cancer patient."
Drs. Bristow and Boutros co-lead the Canadian Prostate Cancer Genome Network (CPC-GENE) Sequencing Project. Dr. Bristow is a Professor in the Departments of Radiation Oncology and Medical Biophysics, University of Toronto, where Dr. Boutros is an Assistant Professor, in Department of Medical Biophysics, University of Toronto.
Prostate cancer Overview
The prostate gland makes fluid that forms part of semen. The prostate lies just below the bladder in front of the rectum. It surrounds the urethra (the tube that carries urine and semen through the penis and out of the body).
Prostate cancer is the most common cancer in men in the United States, after skin cancer. It is the second leading cause of death from cancer in men. Prostate cancer occurs more often in African-American men than in white men. African-American men with prostate cancer are more likely to die from the disease than white men with prostate cancer.
Almost all prostate cancers are adenocarcinomas (cancers that begin in cells that make and release mucus and other fluids). Prostate cancer often has no early symptoms. Advanced prostate cancer can cause men to urinate more often or have a weaker flow of urine, but these symptoms can also be caused by benign prostate conditions.
Prostate cancer usually grows very slowly. Most men with prostate cancer are older than 65 years and do not die from the disease. Finding and treating prostate cancer before symptoms occur may not improve health or help you live longer. Talk to your doctor about your risk of prostate cancer and whether you need screening tests.
In November, 2014, the long-time collaborators published earlier findings in Lancet Oncology about the genetic test they have developed to identify which men are at highest risk for their prostate cancer to come back after localized treatment with surgery or radiotherapy.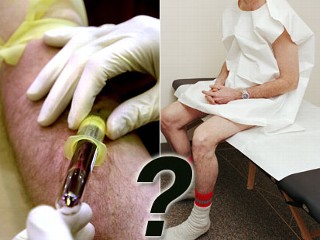 ###
The research published today was funded by the Movember Foundation through Prostate Cancer Canada; the Ontario Institute for Cancer Research; the Government of Ontario; and The Princess Margaret Cancer Foundation.
About Princess Margaret Cancer Centre, University Health Network
The Princess Margaret Cancer Centre has achieved an international reputation as a global leader in the fight against cancer and delivering personalized cancer medicine. The Princess Margaret, one of the top five international cancer research centres, is a member of the University Health Network, which also includes Toronto General Hospital, Toronto Western Hospital and Toronto Rehabilitation Institute. All are research hospitals affiliated with the University of Toronto. For more information, go to http://www.theprincessmargaret.ca or http://www.uhn.ca .
Media contact:
Erica Di Maio
Public Affairs and Communications
Princess Margaret Cancer Centre
University Health Network
416-946-4501 x4011
.(JavaScript must be enabled to view this email address)
###
Provided by ArmMed Media