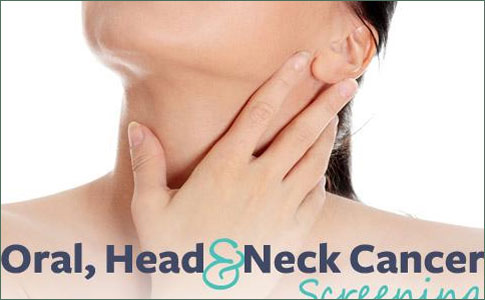 Head and neck cancer poses a serious health risk, with the American Cancer Society projecting that approximately 36,500 new cases of head and neck cancer will be diagnosed in the United States and that 11,000 American deaths will result from head and neck malignancies in 2003. While head and neck cancer accounts for only 3% of all new cancer cases and 2% of all cancer deaths in the United States annually, it is the fifth most common malignancy worldwide. Tobacco and alcohol are the primary etiologic agents in these cancers, suggesting prevention should be a primary public health goal in the field. Emerging evidence suggests that inherited factors and exposure to other agents play important roles, and these may help refine prevention strategies. Nearly identical percentages are reported from Britain, but head and neck cancers have a much greater impact in certain other parts of the world, especially where tobacco and/or betel nut chewing is common, and are the leading causes of cancer mortality worldwide. Despite improvements in diagnosis and local management, long-term survival rates in head and neck cancer have not increased significantly over the past 40 years and are among the lowest worldwide of the major cancers.
Neoplasms of the Head and Neck
The problem is even worse for select populations such as African Americans, for whom survival rates have actually decreased. Oropharyngeal cancer, the largest subgroup of head and neck cancers, has a 5-year relative survival rate of only 59% for United States whites and 35% for blacks. Although early-stage head and neck cancers (especially laryngeal and oral cavity) have high cure rates, over 60% of head and neck cancer patients present with advanced disease. Cure rates decrease, of course, in locally advanced cases, whose probability of cure is inversely related to tumor size and even more so to the extent of regional node involvement.
Survival advantages provided by new treatment modalities have been undermined by the significant percentage of patients cured of head and neck squamous cell carcinoma (HNSCC) who subsequently develop second primary tumors. Second primaries are the major threat to long-term survival after successful therapy of early-stage HNSCC. Their high incidence results from the same carcinogenic exposure responsible for the initial primary process, called field cancerization. In addition to the problem of long-term survival in the face of second primary risk, HNSCC patients also face tremendous impacts on quality of life after definitive therapy. Despite marked advances in reconstructive surgery and rehabilitation, intensity-modulated radiotherapy (IMRT) and conservation approaches to certain malignancies, patients continue to have significant functional deficits. These compelling problems are responsible for the emerging importance of primary chemotherapy and chemoprevention of HNSCC.
Head and Neck Cancer Facts
Cancers of the head and neck are identified by the area in which they begin: the oral cavity, salivary glands, paranasal sinuses and nasal cavity, pharynx, larynx (voicebox), and lymph nodes in the neck. Cancers of the brain, eye, thyroid gland, scalp, skin, muscles, and bones of the head and neck are not usually grouped with cancers of the head and neck.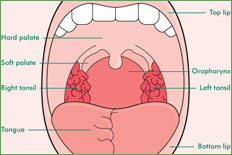 Over 95% of cancers of the oral cavity are squamous cell carcinomas ...



The main causes of head and neck cancers include tobacco (smoked or chewed), and alcohol. Other risk factors are sun exposure, human papillomavirus (HPV) infection, radiation to the head and neck, Asian ancestry, Epstein-Barr virus infection, exposure to wood dust or airborne asbestos, consumption of certain preservatives or salted foods, poor oral hygiene, and Plummer-Vinson (also called Paterson-Kelly) syndrome.
Common symptoms of several head and neck cancer sites include a lump or sore that does not heal, a sore throat that does not go away, difficulty swallowing, and a change or hoarseness in the voice. Symptoms may differ according to the part of the head or neck that is cancerous.
Exams and tests conducted to diagnose head and neck cancer vary depending on the symptoms and may include a biopsy, endoscopy, blood or urine tests, X-rays, CT scans, MRIs, and PET scans.
Treatment for head and neck cancers depends on the exact location of the tumor, the stage of the cancer, and the person's age and general health. Treatment options include surgery, radiation therapy, and chemotherapy.
Depending on the location of the cancer and the type of treatment, rehabilitation may include physical therapy, dietary counseling, speech therapy, and/or learning how to care for a stoma after a laryngectomy. Some patients may need reconstructive and plastic surgery.
New strategies for the management of cancers of the mucous membranes of the upper aerodigestive tract (UADT) are badly needed. A team concept is required. Already the role of each treatment modality is becoming more clearly defined. New combined-modality approaches (eg, sequential and synchronous chemoradiotherapy) and advances in organ preservation and chemoprevention are beginning to offer realistic hopes for improvements in HNSCC patients' survival rates and quality of life. HNSCC research, both clinical and basic, is becoming a model for research into other epithelial cancers. This section reviews both the current status of and future investigative directions for the epidemiology, biology, chemoprevention, diagnosis, and therapy of head and neck cancer.
Neoplasms of the Head and Neck
Head and Neck Cancer: Statistics
Head and neck cancer accounts for about 3% of all cancers in the United States. This year, an estimated 59,340 people (43,390 men and 15,950 women) will develop head and neck cancer. It is estimated that 12,290 deaths (8,900 men and 3,390 women) will occur this year.
The five-year survival rate is the percentage of people who survive at least five years after the cancer is found. The five-year survival rate of people with head and neck cancer varies and depends on several factors. Check the individual section describing a specific type of head and neck cancer for more information about survival statistics (see the Overview for a complete list).
Cancer survival statistics should be interpreted with caution. These estimates are based on data from thousands of people with this type of cancer in the United States each year, so the actual risk for a particular individual may be different. It is not possible to tell a person how long he or she will live with head and neck cancer. Because the survival statistics are measured in five-year intervals, they may not represent advances made in the treatment or diagnosis of this cancer. Learn more about understanding statistics.
Statistics adapted from the American Cancer Society's publication, Cancer Facts & Figures 2015 and the National Cancer Institute.