Introduction
The biology and clinical characteristics of mediastinal germ cell tumors have been defined during the last 30 years. These neoplasms, although rare, are of particular interest because they predominantly affect young males and because curative therapy is now available for many patients. The clinical and pathologic characteristics of benign and malignant germ cell tumors and of "poorly differentiated carcinoma" of the mediastinum are presented, with special attention focused on the treatment of these neoplasms.
Thoracic cancer is cancer of the lungs or chest region. Thoracic cancer includes many different types of cancer that involve the thorax, or chest region. Lung cancer, the most common type, is the number one cancer killer for both men and women in the United States.
Symptoms
In early stages, lung cancer may not exhibit any symptoms. As the disease progresses, symptoms may include shortness of breath, persistent cough/wheezing, hoarseness, bone pain, fatigue and loss of appetite and weight. Patients with other types of thoracic cancer, such as thymus, may experience similar symptoms. Patients with esophageal cancer may also experience difficulty swallowing or extensive heartburn. Patients who smoke, have a high-risk health history and/or have these symptoms should talk with their doctors about thoracic cancer and lung cancer screenings.
Diagnosis and Staging
Early and accurate diagnosis and staging of lung and other types of thoracic cancer is critical to treating the diseases effectively.
Tumors of thymus
The thymus is a lymphoepithelial organ is mainly located in the anterior mediastinum and a small part is located in the neck. It is a transient organ; highly developed in the fetus and in the first years of life, it undergoes involution after puberty. Thymic tumors are the most common in the mediastinum in the adult population, representing about 50% of anterior mediastinal masses; their incidence is 0.05 per 100,000 people per year. Thymic tumors are a very heterogeneous group of neoplasms, originating from the epithelial cells of the thymus, although in most cases are made from varying percentages of epithelial cells and lymphocytes; the most frequent histological subtype is the thymoma, while thymic carcinoma is very rare and sometimes thymolipomas, carcinoid tumors, lipomas and germ cell tumors can be found. The thymoma is derived from the epithelial cells of the thymus, a rare disease, still famous for its associations with the mysterious neuromuscular disorder called Myasthenia Gravis. Quantitatively it represents 90% of tumors of the thymus. The average age of thymoma occurrence is 53 years, although they can occur at any age with an equal distribution in both genders. Thymomas have an unpredictable evolution, with cases that remain indolent for a long time up to very aggressive neoplasms with aspects of local infiltration and stories of multiple recurrences and distant metastases.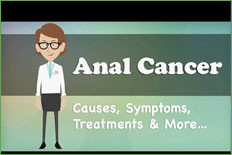 The management of anal cancer underwent an interesting transformation over the last two decades.



Benign Teratomas of the Mediastinum
Benign teratomas of the mediastinum (mature cystic teratomas or "dermoid" tumors) are rare and account for only 3 to 12% of mediastinal tumors. Although these tumors have been described in patients with ages ranging from 7 months to 65 years, most occur in young adults, with an approximately equal incidence in males and females. No predisposing conditions or associated abnormalities have been recognized in patients developing these tumors.
Benign mediastinal teratomas have a histologic appearance identical to that of benign teratomas arising in the more common ovarian location. These tumors are usually well encapsulated and are composed either of a single large cystic cavity or of several smaller intercommunicating cystic spaces. On histologic examination, mature tissue from ectodermal, mesodermal, and endodermal germ cell layers is typically present. Mature tissue that recapitulates the histology of any human organ can be found in these tumors. However, the ectodermal component (ie, skin, sebaceous tissue, neural tissue) is usually predominant.
Approximately 95% of benign teratomas arise in the anterior mediastinum; the remainder arise in the posterior mediastinum. These tumors are slow growing and in recent years, 50 to 60% of patients have been asymptomatic at the time of diagnosis by routine chest radiography. When symptoms are present, dyspnea and substernal chest pain are the most common. Cough productive of hair or sebum is pathognomonic of a benign mediastinal tumor. However, this distinctive symptom is extremely rare and occurs late in the natural history of this condition following tumor rupture into the tracheobronchial tree. Superior vena caval syndrome is also rare and is a late manifestation. Most patients with benign mediastinal teratomas appear healthy, and physical examination contributes little to the diagnosis. Likewise, laboratory evaluation is usually normal. Serum levels of human chorionic gonadotropin (HCG) and α-fetoprotein are always normal in patients with benign teratoma.
The chest radiograph typically reveals a well-circumscribed anterior mediastinal mass that often protrudes into one of the lung fields. These tumors are usually large at the time of diagnosis; in a recent series, the median size was 10 X 8.5 X 5.4 cm. Occasionally, chest radiography identifies teeth within the tumor, a pathognomonic finding. Calcification is present in up to 25% of tumors, occurring in fragments of bone, in the tumor wall, or in other areas throughout the tumor, in addition to its occasional occurrence in teeth.
Surgical excision is the treatment of choice for benign teratoma of the mediastinum. Median sternotomy is usually the best surgical approach, although successful resection can also be accomplished by thoracotomy. Surgical removal is sometimes difficult because of the large size of the tumor and the involvement of other structures: pericardium, lung, great vessels, thymus, chest wall, hilar structures, and diaphragm, in decreasing order of frequency. Some 10 to 15% of patients require additional procedures (eg, lobectomy, pericardiectomy) for complete tumor resection. Benign teratomas are resistant to radiation and cytotoxic drugs, and these modalities have no role in their treatment.
Tumor recurrence is rare following complete surgical resection. Prolonged survival has also been reported in patients who underwent only subtotal resection owing to the involvement of vital mediastinal structures. The operative mortality rate in recent years has been very low.