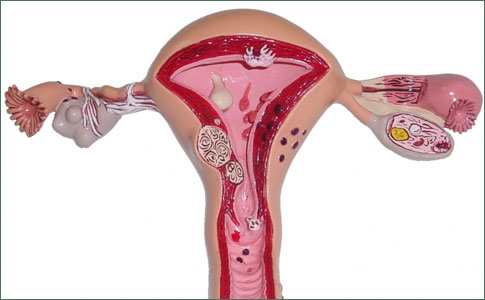 The endometrium is the tissue lining the uterus (or womb). The uterus, a hollow organ about the size and shape of a pear, is found in a woman's pelvic region and is the organ where the fetus grows until birth. The upper part of the uterus is called the corpus; the lower, narrower part of the uterus is called the cervix. The cervix is the opening between the uterus and the vagina. The outer layer of the uterus is called the myometrium. The myometrium is thick and composed of strong muscles. These muscles contract during labor to push out the baby.
The endometrium is soft and spongy. Each month, the endometrium changes as part of the menstrual cycle. Early in the cycle, the ovaries secrete a hormone called estrogen that causes the endometrium to thicken. In the middle of the cycle, the ovaries start secreting another hormone called progesterone. Progesterone prepares the innermost layer of the endometrium to support an embryo should conception (pregnancy) occur. If conception does not occur, the hormone levels decrease dramatically. The innermost layer of the endometrium is then shed as menstrual fluid. This leads to the cyclical nature of the menstrual cycle.
Endometrial cancer is the most common invasive gynecologic cancer, representing 5.4% of all malignancies of women, and one of the 10 most frequent cancers. The incidence is 72 cases per 100,000 women per year, yielding a lifetime risk of 1 in 45. Approximately 37,400 new cases and 6,470 deaths occurred in 1999. An estimated 39,300 cases will occur in 2002. Seventy-five percent of endometrial cancer patients are postmenopausal, and the average age of onset is 60 years.
Several risk factors for endometrial cancer have been identified. Obesity increases the risk threefold for women 21 to 50 pounds overweight; risk is heightened to 10 fold for individuals exceeding ideal body weight by 50 pounds. Risk for nulliparous women is two times higher than primiparas and three times that of multiparous women. Late menopause (age 52 versus age 49) leads to a 2.4-fold increased incidence of endometrial cancer.
Hormones significantly alter the risk of endometrial neoplastic disorders. "Unopposed" estrogen replacement therapy in postmenopausal patients increases endometrial cancer risk 4- to 15 fold; risk is related to dose and duration of therapy. On the other hand, cyclic or continuous supplementation with progestins provides protection against endometrial cancer, reducing risk to below that of women without postmenopausal hormonal support. Tamoxifen, an antiestrogen used in the therapy of breast cancer patients, increases the risk of endometrial cancer two- to threefold. Despite this unwanted side effect of tamoxifen, it is generally accepted that the benefits of tamoxifen therapy outweigh the risks and that therapy should not, in general be halted because of fears of endometrial cancer. Estrogen-secreting tumors (granulosa cell tumors of the ovary) and polycystic ovarian disease increase the risk of endometrial cancer. Oral contraceptives decrease the risk of endometrial cancer by approximately 50%, and this effect persists for about 10 years after discontinuation of the pill. Hypertension has been reported to increase endometrial cancer risk onefold, and diabetes elevates the risk threefold. Ironically, smoking one pack of cigarettes a day decreases risk by about 30%, presumably due to enhanced estrogen metabolism in smokers.
Symptoms of endometrial cancer include abnormal uterine bleeding, vaginal discharge, pelvic pressure, and manifestations of metastatic disease. Abnormal uterine bleeding is the most common clinical feature and is present in approximately 80% of women with endometrial cancer. The differential diagnosis of a postmenopausal woman who presents with abnormal vaginal bleeding includes endometrial atrophy, endometrial hyperplasia, endometrial polyps, cervical cancer, and vaginal cancer, in addition to endometrial carcinoma.
Ovarian cancer is one of the most treatable solid tumors, as the majority will respond temporarily to surgery and cytotoxic agents.



Patients with suspicious symptoms should be carefully evaluated with a detailed history, with emphasis on the risk factors already discussed. A thorough physical examination should also be performed. The pelvic exami-nation should include a careful assessment of uterine size and an endometrial biopsy. A Pap smear should also be done as well; however, Pap smears lack sufficient sensitivity for the diagnosis of endometrial cancer and must not be substituted for biopsy of the endometrial cavity. Transvaginal ultrasound, with measurement of the endometrial stripe thickness, is a useful adjunct. Using a "normal" endometrial stripe measurement of 4 mm or less for women less than 5years since menopause and 3 mm or less for those 5years or more since menopause, transvaginal ultrasound demonstrated a 97% sensitivity, 76% specificity, and 99.7% negative predictive value in the detection of endometrial cancer. For patients receiving tamoxifen, the endometrial stripe may measure up to 10 mm and is not a reliable measurement for the detection of endometrial cancer compared to patients not receiving tamoxifen. Dilatation and curettage are recommended if office biopsy cannot be performed or if the clinical suspicion of cancer remains high in the face of a negative biopsy and transvaginal ultrasound. Hysteroscopy may also be performed, allowing visual inspection of the endometrial cavity, and may identify small foci of tumor missed on routine biopsy.
Screening for endometrial cancer has not proven to be of much clinical value. Methods such as routine endometrial biopsy and pelvic sonography have been explored. Given that a high percentage of endometrial cancer patients become symptomatic early in the course of their disease and that endometrial biopsy is readily available, screening does not improve outcome significantly if practitioners keep in mind the risk factors and diligently biopsy the endometrium in suspicious cases.
Endometrial cancers are initially treated and staged using a surgicopathologic evaluation to document the extent of spread. Preoperative medical assessment should search for metastases (physical exam and chest x-ray), as well as assure that the patient is medically fit to undergo surgery. Table 37.1 outlines the current staging system. Standard therapy comprises exploratory laparotomy, total abdominal hysterectomy, bilateral salpingo-oophorectomy, washings from the abdomen and pelvis to assess for cytologic evidence of tumor extension, and pelvic and para-aortic lymphadenectomies if poor prognostic or adverse histologic features are present. Clinical staging was employed before 1988 and is still utilized in the fewer than 5% of cases in which the patient is unfit to undergo surgery.
Types of Uterine (Endometrial) Cancer
There are many different types of uterine cancer. Each type varies in the way it behaves and how it should be managed. For this reason, specialized pathology review is often recommended.
Endometrioid adenocarcinoma: This type of uterine cancer forms in the glandular cells of the uterine lining. It accounts for as much as 75 percent of all uterine cancers. Endometrioid adenocarcinoma is commonly detected early and has a high cure rate.
Clear cell adenocarcinoma: About 5 percent of uterine cancers are of this type, which is primarily diagnosed in women who were exposed in utero to an estrogen drug known as diethylstilbestrol (DES). From 1938 to 1971, DES was prescribed to some pregnant women to prevent miscarriage. The female children of women exposed to DES have an increased risk of rare types of uterine, cervical, and vaginal cancers. This form of adenocarcinoma tends to recur (come back after treatment) or metastasize (spread) to other areas of the body.
Serous adenocarcinoma: These tumors are more likely to spread to lymph nodes and other parts of the body. About 10 percent of uterine cancers diagnosed are of this type.
Adenosquamous carcinoma: This rare form of uterine cancer has elements of both adenocarcinoma and carcinoma of the squamous cells that line the outer surface of the uterus.
Carcinomasarcoma: This rare form of uterine cancer was previously thought to be a type of uterine sarcoma. However, it is now felt to be an endometrial cancer. It has elements of both adenocarcinoma and sarcoma. These tumors have a high risk of spread to lymph nodes and other parts of the body.
Symptoms
More than 90 percent of women with endometrial cancer experience abnormal vaginal bleeding. In some cases the bleeding may appear as vaginal discharge that is watery, or pink or white instead of red. Women in their late 30s and early 40s may also experience heavy bleeding between periods. For women who have gone through menopause, any vaginal bleeding should be discussed with their doctors; one in ten postmenopausal women with vaginal bleeding are found to have uterine cancer.
Other symptoms of uterine cancer may include:
Difficulty urinating
Pain when urinating
Pain during sexual intercourse
Pelvic pain (usually a symptom of later stages of disease)
Unexplained weight loss (usually a symptom of later stages of disease)
While these and other symptoms do not necessarily indicate cancer, you should consult your doctor for examination, since early detection of many types of uterine cancer greatly increases the chance of a cure.
Increased risk of recurrence and decreased survival are associated with high-grade histology, cervical extension, deep myometrial invasion, extrauterine extension, and malignant peritoneal cytology. The presence of estrogen and progesterone receptors is associated with a better prognosis and a higher response rate to progestational therapy. Progestational therapy is usually reserved for recurrent disease, salvage therapy, or the medically infirm who are poor surgical candidates.
Postoperative management of patients with endometrial cancer varies according to the stage and grade of their tumor. Women at low risk for recurrence (stage IA, grade 1 and 2) require no additional therapy. A recent phase III randomized study of surgery versus surgery plus adjunctive radiation therapy in intermediate-risk individuals [stage IB, IC, IIA (occult) and IIB (occult)] demonstrated that the use of adjuvant pelvic radiation therapy decreased the risk of pelvic recurrence but had no significant effect on overall survival. Patients randomized to the radiotherapy group had a higher incidence of adverse effects, including hematologic, gastrointestinal (with and without obstruction), genitourinary, and cutaneous toxicities. Patients with stage IIB or IIIA should receive tailored treatment, which may include vaginal cuff irradiation, pelvic radiotherapy, or intraperitoneal P. Patients at high risk for persistent, recurrent, or progressive disease (stages IIIB, IIIC, IVA, and IVB, all grades) usually receive postoperative radiation treatment to the vaginal cuff, pelvic, or para-aortic regions. Whole abdominal radiation is sometimes employed in cases of intraabdominal tumor spread. Currently, a randomized prospective trial comparing whole abdominal radiation versus doxorubicin-cisplatin chemotherapy for patients with advanced disease is under way. Radiation as a primary means of therapy is usually reserved for poor surgical candidates. When utilized, external beam technique followed by uterine intracavitary placement of a radiation source is the usual strategy.
Three to four cups of coffee daily reduced endometrial cancer risk by up to 19%
The team analyzed 1,303 women with endometrial cancer who were a part of the European Prospective Investigation Into Cancer and Nutrition (EPIC) Study. The women completed dietary questionnaires, and the researchers assessed the link between 84 foods and nutrients consumed and the risk of endometrial cancer.
From this, the team identified nine foods and nutrients that could be associated with risk of endometrial cancer: total fat, monounsaturated fat, phosphorus, carbohydrates, yogurt, butter, potatoes, cheese and coffee.
Next, the researchers analyzed 1,531 women with endometrial cancer who were a part of the Nurses' Health Study (NHS) or Nurses' Health Study II (NHSII). These women also completed dietary questionnaires.
To validate their findings from the EPIC cohort, the team assessed the association between consumption of the nine foods and nutrients and risk of endometrial cancer in the NHS/NHSII cohorts.
The researchers found that drinking three cups of coffee a day reduced endometrial cancer risk by 19% among women in the EPIC study, compared with women who drank less than one cup of coffee a day. Among women in the NHS/NHSII cohorts, drinking four cups of coffee a day reduced the risk of endometrial cancer by 18%, compared with those who never drank coffee.
Hormonal therapy is sometimes used for metastatic or recurrent endometrial cancer. Progestational agents have proven to be most effective, although responses to tamoxifen have been described. Tumors that express progesterone receptor are more sensitive to the growth-suppressive effects of progestins that those lacking receptors (70% versus 16% response rate). Cytotoxic chemotherapy may be used for palliation in advanced or recurrent disease. Doxorubicin and cisplatin are the best agents available. Response rates of 31% to 81% have been achieved, but long-term survivors are rare. Paclitaxel combined with platinum-based chemotherapy has demonstrated a partial response rate of 63% in recurrent disease, and this agent is currently being evaluated in phase III trials.
GYNECOLOGIC NEOPLASMS
Etiology and Pathology
Symptoms, Signs, and Diagnosis
Staging, Prognosis, and Treatment
Etiology and Pathology
Symptoms, Signs, and Diagnosis
Treatment
Pathology
Symptoms and Signs
Diagnosis
Prognosis and Treatment
Pathology
Symptoms, Signs, and Diagnosis
Prognosis
Treatment
Symptoms and Signs
Prognosis and Treatment
Symptoms, Signs, and Diagnosis
Symptoms, Signs, and Diagnosis
Treatment
Prognosis varies according to clinical stage. Five-year survival according to stage is as follows: I, 93%; II, 73%; III, 48%; IV, 25%. Patients with stage IA endometrial cancer have a 5-year survival of more than 95%. Multivariate analysis has demonstrated that age at diagnosis is an independent prognostic factor; survival decreases from 93% to 71% as age increased from 30 to 70+ Recurrence is most likely in the first 3 years after treatment. About half of recurrences are in the vagina or pelvis. Patients should be seen every 3 to 4 months in follow-up and should be asked about spotting, bleeding, pain, or any other unusual symptoms that may portend relapse. A careful physical examination including Pap smear and pelvic assessment should be performed. Chest x-ray may be valuable for screening for pulmonary metastases. CA 125 is not routinely used to follow these patients but can be useful in isolated cases.
Fast facts about endometrial cancer
Endometrial cancer is slightly more common in white women, but black women are more likely to die from the condition
Women who are overweight or obese are 3.5 times more likely to develop endometrial cancer than those of a normal weight
More than 600,000 women in the US are survivors of endometrial cancer.
Recurrent endometrial cancer is treated on an individual basis. Strategies include radiation therapy (depending on prior treatment), surgery for resection of isolated tumor, pelvic exenteration for recurrence after radiotherapy, or systemic therapy with hormonal or cytotoxic agents. Some patients with recurrent endometrial cancer, especially those localized to the vaginal cuff, can be treated successfully with radiotherapy, surgery, or a combination of the two. Patients who have metastatic recurrent disease generally have a poor survival. Hormonal therapy and chemotherapy may provide palliative benefit.
Although it is labeled as contraindicated by the U.S. Food and Drug Administration (FDA), estrogen replacement given after definitive cancer treatment does not appear to influence survival for patients with early-stage disease. Provision of hormonal support for women with advanced disease must be decided on an individual basis and should be done in close consultation with a gynecologic oncologist.