Non-Invasive Robotic Surgery Destroys Prostate Cancer Tumors
Prostate cancer is the most common cancer in American men and is the fifth-leading cause of cancer death in men globally.
While death rates for prostate cancer have been decreasing in most developed countries, mortality rates are rising in some European and Asian countries such as South Korea, China and Russia. A non-invasive way of removing prostate cancer tumors is now available in the United States with the help of robotic technology.
The University of Southern California is the first academic medical center in the U.S. to perform this type of procedure.
Brett Lindsay knows he made history when he underwent a procedure known as robotic high intensity focused ultrasound, or HIFU.
"I was excited about the new procedure because it was more or less non-invasive. The recovery time was a lot quicker - did not have to remove the prostate," Lindsay said.
The U.S. Food and Drug Administration recently approved the procedure even though it's been used in other countries to treat prostate cancer for about 10 years. Traditional prostate cancer treatments include either removing the entire gland or radiation, which will affect the quality of life for patients even if the cancer is removed, said Inderbir Gill, lead urologist at the University of Southern California Institute of Urology at Keck Medicine of USC.
"The nerves that are lying right next to the prostate that are responsible for erections, the sphincter that's lying right next to the prostate that is responsible for urinary continence, they get compromised. So, yes, you take care of the cancer, but you significantly impact the person's quality of life," Gill said.
Only cancer is targeted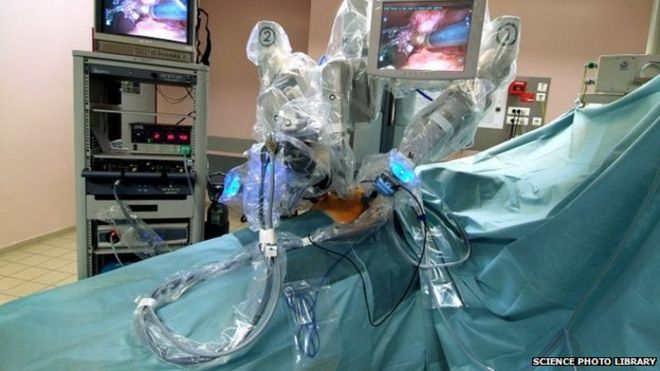 With HIFU, only the cancer is identified, targeted and destroyed. The HIFU procedure is an outpatient procedure, said Robert Barnett of SonaCare Medical, one of the manufacturers of the technology.
"Here we're taking ultrasound energy off of a concave or bowl-like surface and bringing that to a focal point, and at that point we have tremendous heat generated and we can destroy tissue," Barnett said.
HIFU devices are used in Western Europe, Latin America and some Asian countries, but not so much in developing countries.
'Suicide' gene therapy kills prostate cancer cells
The technique causes the tumour cells in the body to self-destruct, giving it the name 'suicide gene therapy'.
Their research found a 20% improvement in survival in patients with prostate cancer five years after treatment.
A cancer expert said more research was needed to judge its effectiveness.
Prostate cancer is the most common cancer in men in the UK with more than 41,000 diagnosed each year.
The study, led by researchers from Houston Methodist Hospital in Texas, appears to show that this 'suicide gene therapy', when combined with radiotherapy, could be a promising treatment for prostate cancer in the future.
The technique involves the cancer cells being genetically modified so that they signal a patient's immune system to attack them.
"I think in the Third World if you will, in developing countries, it's a financial thing. Those countries certainly don't have the resources to commit to health care. Their focus is more on preventing infectious disease," Barnett said.
But he said that, looking at the global cost of treating prostate cancer, HIFU technology is less costly than radiation and it can easily be implemented in an unsophisticated medical setting.
Gill said having the HIFU procedure at an academic medical center will allow them to further research the outcomes of HIFU procedures, minimize any side effects and advance the technology.
The objective is "to figure out what molecular and genetic markers predict HIFU success, HIFU failure. Which patients are the best candidates for it? How do we not overtreat cancer? How do we not undertreat cancer?" Gill said.
Brett Lindsay said he'll relax at home for a few days before going on a business trip in less than a week.
###
Elizabeth Lee
VOANews.com
Provided by ArmMed Media