Healthy Diet Before Pregnancy: Good for Baby's Heart?
Better maternal diet in the year prior to conception was associated with lower risk of serious congenital heart defects, according to the results of a large retrospective case-control analysis using data from the National Birth Defects Prevention Study.
In adjusted analyses, Lorenzo D. Botto, MD, of the University of Utah in Salt Lake City, and colleagues found a reduced risk of all conotruncal defects (aOR 0.76, 95% CI 0.64 to 0.91), as well as a 37% reduced risk in tetralogy of Fallot (aOR 0.63, CI 0.49 to 0.80) associated with the highest quartile of Diet Quality Index for pregnancy (DQI-P).
The authors also observed diet quality was associated with a slightly lower risk of overall septal defects (aOR 0.86, 95% CI 0.75 to 1.00), including atrial septal defects (aOR 0.77, 95% CI 0.63 to 0.94). They published their results in Archives of Disease in Childhood: Fetal and Neonatal Edition.
John P. Breinholt, MD, division director of pediatric cardiology at The University of Texas Health Science Center at Houston/Children's Memorial Hermann Hospital, said that population studies are always difficult as they require sifting through a lot of factors that can influence the outcome, the authors were meticulous in their process in demonstrating that there appears to be a nutritional component to the development of congenital heart disease. Breinholt was not involved with the study.
"This emphasizes more than ever the need to educate women to prepare themselves nutritionally for childbirth (in addition to during pregnancy), as well as further identify the dietary factors that can prevent these significant birth defects," he told MedPage Today via e-mail.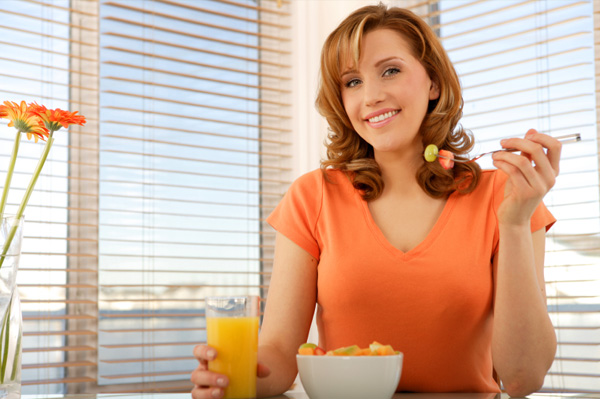 Researchers adjusted for maternal energy intake, race/ethnicity, folic acid supplement use, smoking, maternal education, maternal BMI, and study center.
Botto told MedPage Today that birth defects are a significant clinical and public health issue, with one in four infant deaths from birth defects caused by a heart anomaly, but that little is known about how to prevent them. He added that the National Birth Defects Prevention Study had looked at diet as a factor for structural malformations, such as spina bifida and cleft lip and palate. So, his team wanted to test the hypothesis that diet would also help with congenital heart anomalies.
Improve your diet
The sooner you start eating well, the more likely you are to get pregnant. For both men and women, food and fertility are linked. You need to stick to a balanced diet to boost your chances of conceiving and of having a healthy baby.
Eat several servings of fruit, vegetables, grains such as whole wheat bread, and calcium-rich foods such as yogurt, cheese, and milk every day. Certain vitamins and nutrients - such as vitamins C and E, zinc, and folic acid - are important for making healthy sperm. Not getting enough nutrients can affect your periods, making it difficult to predict when you ovulate. And you may not ovulate at all if you've lost a drastic amount of weight or are obese.
"There's been a very reasonable focus on prenatal care, but to maximize primary prevention for heart defects and other structural malformations, we've got to go even a step further and really focus on preconception care," Botto said.
When examining the diet questionnaire results by decile, researchers observed similar patterns, including an overall reduced risk of conotruncal defects (10th decile versus 1st decile, aOR 0.66, 95% CI 0.50 to 0.87). The strongest associations with diet quality and specific conotruncal and septal heart defects were observed for:
Tetralogy of Fallot: aOR 0.55 , CI 0.38 to 0.79
dTGA: aOR 0.58, CI 0.36 to 0.93
ASD secundum: aOR 0.59, CI 0.43 to 0.81
Researchers used two dietary indices, the DQI-P, as well as the Mediterranean Diet Score, and found significant risk reduction for these congenital heart defects only with the DQI-P (a shortened 58-item version of the diet questionnaire from the Nurse's Health Study).
Check your caffeine intake
While there's no consensus on exactly how much caffeine is safe during pregnancy, experts agree that pregnant women and those trying to conceive should avoid consuming large amounts. Too much caffeine has been linked to a risk of miscarriage in some (but not all) studies.
The March of Dimes advises pregnant women to limit their caffeine consumption to 200 milligrams per day, about the amount in one cup of coffee, depending on the brew. That would be a good goal to aim for as you start trying to conceive.
See a chart showing the amount of caffeine in various coffee brews, other drinks, and select foods, in our article on caffeine during pregnancy.
The study examined data from mothers of babies with major non-syndromic congenital heart defects (n=9,885) and mothers with unaffected babies as matched controls (n=9,468) with estimated dates of delivery from 1997 to 2009. Participants were excluded if mothers reported pregestational diabetes, had an average daily intake of < 500 or > 5,000 kcal or had missing data on two or more food items. Of the control sample, 18% smoked in early pregnancy, 38% were overweight or obese, and 76% reported using folic acid supplements during the periconceptional period.
Limitations to the study include the inability to validate reported dietary intakes (as they were self-reported), as well as potential residual confounding, selection, and recall bias.
Pay attention to the fish you eat
If you're a big fan of fish, start watching your intake. While fish is an excellent source of omega-3 fatty acids (which are very important for your baby's brain and eye development), protein, vitamin D, and other nutrients, it also contains mercury, which can be harmful.
Most experts agree that pregnant women should eat some fish, and that the best approach is to avoid those fish that are highest in mercury and limit your consumption of all fish. The U.S. Food and Drug Administration (FDA) recommends that women of childbearing age not eat shark, swordfish, king mackerel, or tilefish, and eat no more than 6 ounces (one serving) of solid white canned tuna per week. Other experts suggest a longer list of fish to avoid. It's also a good idea to avoid eating fish you've caught in local waters unless you're certain there are no contaminants.
The FDA and Environmental Protection Agency (EPA) recommend that pregnant women eat up to 12 ounces (two servings) a week of fish that are not high in mercury. Good choices include herring, farm-raised rainbow trout, salmon, and sardines.
Botto also noted that the study was observational, but that it took a more holistic approach to dietary pattern than previous studies, and hoped that an independent study might replicate its results. He added that it might be worth examining if any specific components of the diet had a protective effect.
Breinholt agreed with the need for additional research, concluding "more study is definitely warranted in this area, but this is an important first step that establishes a key target."
###
This study was supported by a grant from the Centers for Disease Control and Prevention, National Center on Birth Defects and Developmental Disabilities. The study funder also contributed one of the study sites (Georgia) to the NBDPS, but had no role in the decision to submit the article for publication.
The authors disclosed no conflicts of interest.
###
Reviewed by F. Perry Wilson, MD, MSCE Assistant Professor, Section of Nephrology, Yale School of Medicine and Dorothy Caputo, MA, BSN, RN, Nurse Planner
Provided by ArmMed Media