You are here : health.am > Health Centers > Respiratory Problems
Respiratory Problems
Statin drugs used to lower cholesterol levels and, to a lesser extent, ACE inhibitors used to lower blood pressure, may reduce mortality in older…

A team of scientists at JILA, a joint institute of the National Institute of Standards and Technology (NIST) and the University of Colorado (CU)…

Respiratory disease, particularly bronchitis, in early childhood boosts the risks of illness and premature death in adulthood, indicates research published ahead of print in…

A start-up company is developing a novel, non-invasive device for detecting early-stage respiratory irregularities in premature babies, children and adults receiving ICU care. Known…

New York Methodist Hospital today announced the start of the EASE (Exhale Airway Stents for Emphysema) Trial, an international, multi-center clinical trial to explore…

Researchers at Johns Hopkins have discovered the first genetic evidence that secondhand smoke can worsen lung disease. The report in this week's Journal of…

Here's another reason not to smoke, especially for women: chronic obstructive pulmonary disease (COPD).
This disabling breathing disorder is increasingly becoming a problem for…

Patients with severe COPD may benefit more from therapy that combines salmeterol and fluticasone [SFC] than treatment with tiotropium, according to results from a…

Exposure to traffic pollution may increase respiratory problems and reduce lung volumes in children with asthma, according to researchers who studied the effects of…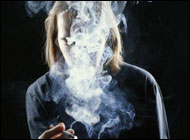 It's not a smoking gun, but it's smoking-related, and it's there in bright medical images: evidence of microscopic structural damage deep in the lungs,…

Treatment should be offered to all people with a particular rare lung condition, regardless of whether or not they show symptoms of it, say…

When it comes to feeding babies, the old adage "breast is best" certainly holds true, with breastfed babies having less diarrhea and fewer ear…

For children undergoing general anesthesia for surgery or other procedures, the risks of several adverse respiratory (breathing-related) events are greater if the child has…

Scientists have found that a large proportion of infants who suffer from bronchiolitis have an inherent pre-disposition to the disease.
The disease is the…

In the August 7, 2007, issue of PLoS One, researchers show how a poorly understood and previously unsuspected mechanism may be the key to…

A single cannabis joint has the same effect on the lungs as smoking up to five cigarettes in one go, indicates research published ahead…

Some people have a genetic variation that makes them more susceptible to chronic obstructive pulmonary disease (COPD) if they smoke tobacco, according to new…

Tight adherence to guidelines for managing people who catch pneumonia in the community - such as starting antibiotics within 4 hours of arrival at…

A sleep-related breathing disorder among infants and toddlers born prematurely occurs earlier than expected in this population, and at higher rates than among full-term…

Marijuana worsens breathing problems in current smokers with chronic obstructive pulmonary disease (COPD), according to a study presented at the American Thoracic Society 2007…

Chronic cough – often causing much discomfort, frustration, irritability and sleep disturbances in 10 percent to 20 percent of adults – is one of…

Wheezing, pneumonia, or whooping cough in early life is not associated with a decline in lung function in adulthood, new research suggests.
Previous reports…

With Valentine's Day (February 14) right around the corner, the American Academy of Otolaryngology-Head and Neck Surgery (AAO-HNS) would like to remind you that…

New research suggests that different treatments may be needed for chronic asthma, depending on whether it results from allergies or lung infections.
Previous studies…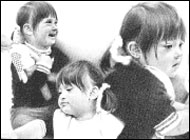 The wildfires that swept through Southern California in 2003 may have caused wheezing and other respiratory problems in many children, even those without asthma,…