You are here : health.am > Health Centers > Respiratory Problems
Respiratory Problems
It's well known that puffing on cigarettes can eventually leave you out of puff. But why do a quarter of long-term smokers develop serious…

A review of prior research suggests that up to one in four patients who are hospitalized for worsening chronic obstructive pulmonary disease (COPD)…

A new computer-aided method used with MDCT to detect and measure pneumothoraces in trauma patients helps physicians make quicker and more accurate decisions in…

Researchers have discovered a gene that modifies the severity of lung disease in people with the lethal genetic condition, cystic fibrosis, pointing to…

There may be a new way to predict mortality in patients with idiopathic pulmonary fibrosis (IPF), a devastating disease that slowly petrifies the lungs.…

New research shows that individual exacerbations in chronic obstructive lung disease (COPD) themselves increase the likelihood of repeat exacerbations, even after five days of…

Newly published research out of Wake Forest University School of Medicine finds that a popular class of anti-inflammatory inhalers significantly increases the risk of…

Results of a study conducted in the Asia-Pacific region suggest that men with COPD are more likely to die or be hospitalized than women…

Long-term use of a macrolide antibiotic may reduce the frequency of exacerbations in patients with moderate to severe chronic obstructive pulmonary disease (COPD) by…

Etanercept and methotrexate are shown to be safe and effective for long-term, continuous treatment of juvenile arthritis, according to research presented this week at…

There is no link between drinking alcohol and the likelihood of worsening chronic obstructive pulmonary disease, or COPD, according to a study of patients…

There is a strong link between obesity and asthma and as the prevalence of both conditions has been increasing steadily, epidemiologists have speculated that…

In people who suffer flare-ups of chronic obstructive pulmonary disease, or COPD, a short course of antibiotics is as effective as a standard longer…

Challenging the long-standing belief that breast-feeding equally protects all babies against disease, research led by Johns Hopkins Children's Center investigators suggests that when it…

A large group of soldiers returning from Iraq have been diagnosed with bronchiolitis, a disease affecting the small airways of the lung, according to…

Patients with idiopathic pulmonary fibrosis (IPF) may have a new treatment option, according to researchers in Japan.
In a Phase III, double-blind, placebo-controlled clinical…

Men who come to the hospital with pneumonia generally are sicker than women and have a higher risk of dying over the next year,…

A less traumatic way of delivering surfactant, a lung lubricant that premature babies need to help them breathe, could reduce the incidence of respiratory…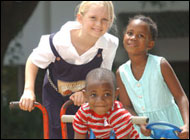 Children with mothers who have allergies or asthma have an increased risk of wheezing in the chest if they take part in baby swimming…

Annual flu vaccinations are highly effective at preventing acute respiratory illness and making sure that existing breathing problems don't get any worse, according to…

Patients with chronic obstructive pulmonary disease (COPD) may gain better control over their breathing and breathe more efficiently by using their breath to play…

Cells lining the mouth reflect the molecular damage that smoking does to the lining of the lungs, researchers at The University of Texas M.…

Getting an adequate amount of fiber each day may help middle-aged people breathe easier, and appears to benefit non-smokers and smokers alike.
Among 11,897…

Telling smokers their lung age significantly improves the likelihood of them quitting, finds a study published on bmj.com today.
The concept of lung age…

Smoking is a known risk factor for respiratory diseases like chronic bronchitis, but genes also play a significant role in its development, according to…