You are here : health.am > Health Centers > Respiratory Problems
Respiratory Problems
Researchers at the University of Virginia Health System have identified a molecular target, or receptor, for potential drugs to treat acute respiratory distress syndrome…

Pulmonary emphysema is caused primarily by cigarette smoking, and the underlying cellular mechanisms are thought to involve smoke-induced activation of tissue degrading enzymes known…

Babies fully breastfed for six months are less likely to suffer from respiratory illnesses in their first two years than babies fully breastfed for…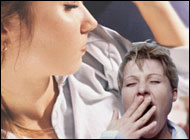 A machine that delivers air through a nasal mask worn during sleep can reduce daytime sleepiness and other symptoms associated with sleep apnea, but…

Among people with chronic obstructive pulmonary disease (COPD), usually emphysema, a low fat-free body mass index appears to be associated with greater mortality, Danish…

Researchers have discovered that your level of exposure to pollution can vary according to what method of transport you use, with travelling by taxis…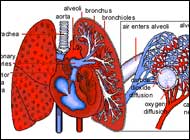 A team of scientists from New Zealand have found that Vitamin D could play a role in keeping the lungs healthy.
The researchers from…

Healthy fats found in fish and vegetable oils may help ease the inflammation that marks chronic lung disease, preliminary research suggests.
In a small…

A multi-institutional team, led by University of Chicago researchers, has taken a crucial step toward understanding and treating Rett syndrome (RS), a rare and…

A new study finds that eating mostly meat, refined starches, and sodium may increase the likelihood of developing chronic respiratory symptoms, including chronic obstructive…

Bleaching agents widely used in hair salons put hair stylists at risk of asthma and inflammation of the eyes, nose and throat, researchers report…

Among patients with Chronic obstructive pulmonary disease (COPD), increased education, improved self-management skills and enhanced follow-up components of pulmonary rehabilitation do not seem to…

Americans with asthma and Chronic obstructive pulmonary disease (COPD) are getting suboptimal care, according to an analysis of health care delivery in communities with…

The "wonder drugs" Gleevec (imatinib) and Viagra (sildenafil) make strange bedfellows, but they both appear to improve pulmonary function in patients with…

Treatment with the tiotropium (Spiriva) can reduce exacerbations of Chronic obstructive pulmonary disease (COPD) and may, as a result, reduce healthcare utilization among…

People with a steep jaw line and a crowded or narrowed air passage at the back of the throat are at increased risk of…

The December tsunami that left over 200,000 people dead or missing in Asia and Africa appears to have caused some unusual lung and sinus…

Letting a lozenge containing capsicin, an ingredient derived from red peppers, dissolve in the mouth before meals improves the reflexes of the upper…

Overnight home monitoring can detect sleep-related breathing disturbances in people who suffer from heart failure, according to new research. This is important said Dr.…

An ingredient in garlic appears to prevent a potentially deadly type of high blood pressure affecting the lungs, at least in rats,…

People with cystic fibrosis are prone to lung infections with Pseudomonas aeruginosa, making a vaccine against the germ an attractive prospect. There…

Adults with obstructive sleep apnea (OSA), a condition in which airways become blocked during sleep and breathing stops for brief periods, are more likely…

People who suffer from an illness that disrupts their breathing during sleep are more likely to suffer a fatal Heart attack or…

New study findings suggest that yogurt may be another weapon in the battle against bad breath.
"Yogurt intake may improve oral hygiene, namely tongue-coating…

An intravenous infusion of a solution of sodium bicarbonate - better known as Baking soda - reduces respiratory distress and excessive acidity of…