You are here : health.am > Health Centers > Emergencies / First Aid
Emergencies / First Aid
If a paramedic suspects a patient is having a stroke, the paramedic is probably right, a Loyola University Medical Center study has found.
…

People in cardiac arrest may do worse long-term if they're given a shot of adrenaline, also known as epinephrine, on the way to the…

Elderly patients who have visited an emergency department (ED) are three times more likely to develop respiratory or gastrointestinal infections in the week following…

An article in the September issue of the Journal of the American College of Radiology summarizes methods for radiation dose optimization in chest computed…

Access to health care and the usage of emergency departments are popular topics in the news.
David Jones, a graduate student in the University…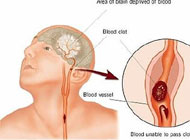 Most African-Americans say they'd call 9-1-1 if stroke symptoms occurred - but few do, according to research reported in Stroke: Journal of the American…

Computed tomography examinations of children in hospital emergency departments increased substantially from 1995 to 2008, according to a new study published online and in…

Doctors who used a free iPhone application provided by the UK Resuscitation Council performed significantly better in a simulated medical emergency than those who…

One of the reasons often given by people for not attempting first aid in emergency situations is a lack of confidence and a fear…

Homeless people who do not get enough to eat use hospitals and emergency rooms at very high rates, according to a new study. One…

Food allergies may send more Americans to emergency rooms each year than commonly believed, a new study suggests.
Between 2001 and 2005, researchers estimate…

Are you ready for robots in the ER?
A group of computer engineers at Vanderbilt University is convinced that the basic technology is now…

Scientists have developed a new range of tests that allow them to track the progression of Huntington's disease long before symptoms appear and should…

The number of young children going to the emergency room after taking too much cough and cold medicine was cut in half after drug…

More patients could benefit from x-ray scans of their hearts, according to new advice put forth in a report from several medical societies.
But…

Use of advanced imaging machines in hospital emergency departments tripled between 1998 and 2007, resulting in higher costs and longer emergency room stays, U.S.…

Using advanced MRI and an artificial intelligence technique, researchers in Geneva, Switzerland, have identified a method that may help identify which individuals with mild…

Spanish researchers have calculated the probability of dying in road accidents on the basis of the time taken for the emergency services to arrive.…

From 1997 to 2007, the rates of visits to emergency departments in the U.S. increased significantly, particularly among adults with Medicaid, according to…

Children's visits to the emergency room for serious food-allergy reactions may be on the rise, if the experience of one major U.S. medical center…

Preoperative computed tomography (CT) may help reduce unnecessary surgeries in women of reproductive age with suspected acute appendicitis, according to a new study appearing…

The state of US emergency departments has been called a "growing national crisis," and a report out today shows the situation is only getting…

As more and more Americans have turned to hot tubs for some rest and relaxation, the number of hot tub-related injuries has grown as…

One in four emergency department patients in 2006 waited longer to be evaluated by a clinician than recommended at triage, an increase from one…

The analysis takes just a few minutes and the doctor knows straight-away whether there are any pathogens in the blood. An improved marker-free technique…