Incontinence takes mental toll on younger women
Research from the University of Adelaide shows middle-aged women are more likely to suffer depression from a common medical problem that they find too embarrassing to talk about: urinary incontinence.
However, help is available for women if they seek medical advice, researchers say.
In a study of the experiences of women with urinary incontinence, researcher Jodie Avery found that middle-aged women with incontinence (aged 43-65) were more likely to be depressed than older women (aged 65-89).
Speaking in the lead up to World Continence Week (24-30 June), Ms Avery says the younger women's self esteem is often hit hard by urinary incontinence, while older women tend to be more resilient and accepting of their condition.
"Women with both incontinence and depression scored lower in all areas of quality of life because of the impact of incontinence on their physical wellbeing," says Ms Avery, a PhD student and Senior Research Associate with the University's School of Population Health and School of Medicine.
"Key issues for younger women affected by incontinence are family, sexual relationships and sport and leisure activities.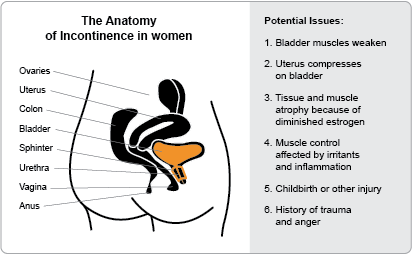 "The most common difficulties women express about their incontinence are things like: 'I can't play netball', 'I can't go to the gym', 'I can't go for walks', or 'I can't go dancing', and these are real issues for women who are still in the prime of their lives."
What is urinary incontinence?
Urinary incontinence is the accidental release of urine. It can happen when you cough, laugh, sneeze, or jog. Or you may have a sudden need to go to the bathroom but can't get there in time. Bladder control problems are very common, especially among older adults. They usually don't cause major health problems, but they can be embarrassing.
Incontinence can be a short-term problem caused by a urinary tract infection, a medicine, or constipation. It gets better when you treat the problem that is causing it. But this topic focuses on ongoing urinary incontinence.
There are two main kinds of urinary incontinence. Some women-especially older women-have both.
Stress incontinence occurs when you sneeze, cough, laugh, jog, or do other things that put pressure on your bladdercamera. It is the most common type of bladder control problem in women.
Urge incontinence happens when you have a strong need to urinate but can't reach the toilet in time. This can happen even when your bladder is holding only a small amount of urine. Some women may have no warning before they accidentally leak urine. Other women may leak urine when they drink water or when they hear or touch running water. Overactive bladder is a kind of urge incontinence. But not everyone with overactive bladder leaks urine.
Urinary incontinence affects approximately 35% of the female population. The main cause in women is pregnancy, with the number of children they have increasing their chances of becoming incontinent.
"Our studies show that 20% of the incontinent population has depression, and this is something that we need both sufferers and GPs to better understand," Ms Avery says.
"Sufferers of incontinence are often reluctant to get help, but attitudes are slowly changing. It is very important for them to seek advice about their condition. In some cases, urinary incontinence can be curable with an operation, and this is quite literally a life-changing operation for many women.
The definition of urinary incontinence in women is the unintentional loss of urine.
Urinary incontinence occurs more often in women than in men. Pregnancy, childbirth, and menopause may contribute to urinary incontinence in women.
Weak bladder muscles, overactive bladder muscles, and nerve damage may also cause urinary incontinence in women.
Urinary incontinence in women is common and treatable.
There are different types of urinary incontinence in women, including stress incontinence, urge incontinence, overactive bladder, functional incontinence, overflow incontinence, mixed incontinence, and transient incontinence.
Diagnosis of urinary incontinence in women may involve a physical exam, an ultrasound, urodynamic testing, and tests including cystoscopy, urinalysis, and a bladder stress test. The doctor will also take a medical history and may recommend keeping a bladder diary.
Treatment of urinary incontinence in women may include behavioral or nonpharmacologic treatments, like bladder training and Kegel exercises, medication, biofeedback, neuromodulation, surgery, catheterization, or a combination of these therapies.
Research is ongoing to discover new and better treatments for urinary incontinence in women.
"GPs need to be aware that if their patient is suffering from incontinence, this condition is often linked with depression which needs to be treated to increase their quality of life.
"Ultimately, we hope that our research helps to raise awareness in the community about both the mental and physical issues associated with incontinence. We know it's embarrassing, but if you discuss it with your GP, your life really can change."
###
Media Contact:
Jodie Avery
PhD student and Senior Research Associate
School of Population Health and School of Medicine
The University of Adelaide
Phone: +61 8 8313 1217
.(JavaScript must be enabled to view this email address)
Provided by ArmMed Media