Top 13 most unhealthy, cancer-causing foods
Cancer is a disease that you should never take lightly. There are cases where it strikes quickly but often, cancer manifests after years of specific habits. Good examples of this are smoking and overexposure to ultraviolet rays, which result in lung cancer and skin cancer, respectively.
Experts estimate that more than half the cases of cancer diagnosed in the United States - more than 1.6 million in 2014 - are preventable with lifestyle changes.
There is one area of your daily life that dramatically affects your - and survival - of cancer. The food and beverages you consume, the fuel your body uses to fight disease, is critical to your overall wellbeing. Some foods are worse for you than others and could be increasing your risk of many conditions and diseases. While cancer is one of the worst, regularly eating the foods in our top ten list can also lead to heart disease, diabetes, and chronic inflammation.
Cancer is the general name for a group of more than 100 diseases. Although there are many kinds of cancer, all cancers start because abnormal cells grow out of control. Untreated cancers can cause serious illness and death.
Normal cells in the body
The body is made up of trillions of living cells. Normal body cells grow, divide to make new cells, and die in an orderly way. During the early years of a person's life, normal cells divide faster to allow the person to grow. After the person becomes an adult, most cells divide only to replace worn-out or dying cells or to repair injuries.
Top 13 Cancer Causing Foods to Avoid
1. Genetically Modified Foods (GMOs): The rapidly growing industry of genetically modified crops are infiltrating our food supply at an alarming rate. More than 90% of our corn and soy are now genetically modified. This fairly new practice is the source of many debates. Experts agree that adequate testing was not done before GMO foods were added to the ingredient listing of thousands of products. Look for GMO-free labels whenever possible. See our exclusive report on the dangers of GMO foods.


2. Microwave Popcorn: From the chemical-lined bag to the actual contents, microwave popcorn is at the center of lung cancer debates around the world. Not only are the kernels and oil likely GMO (which the manufacturer does not have to disclose), but the fumes released contain diacetyl, which is toxic to humans.
Those little bags of popcorn are so convenient to just stick in the microwave, you wouldn't think for a minute that they could be dangerous to your health, but they are.
First, let's talk about the bag itself. According to Wikipedia, conventional microwave popcorn bags are lined with a chemical called perfluorooctanoic acid ( PFOA). This is a toxin you can find in Teflon also. According to a recent study at the University of California, PFOA is linked to infertility in women. Numerous studies in lab animals and humans show that exposure to PFOA significantly increases the risk of kidney, bladder, liver, pancreas and testicular cancers. You can read more about this substance and the above mentioned studies at cancer.org.
Now, let's talk about the contents. Although every manufacturer uses slightly different ingredients, most of them use soybean oil (a GMO product) as well as various preservatives such as propyl gallate, a chemical that is causes stomach problems and skin rashes. Now they don't actually say they are using GMO corn kernels, but that's because the government says they don't have to. Even if they don't use GMO corn, you can bet they aren't using organic corn!
Also, applied to the popcorn itself, is a chemical called diacetyl. Use of this chemical caused Conagra Foods to remove it from their brand of popcorn, ACT, because it was causing lung diseases in the workers at their factory.
3. Canned Goods: Most cans are lined with a product called bisphenol-A (BPA), which has been shown to genetically alter the brain cells of rats. Many plastic goods, thermal paper, water lines, and many dental composites also contain BPA.
Coke and Pepsi products may soon bear cancer warnings in California
California's Proposition 65 law limits the consumption of 4-MI to no more than 16 micrograms per day from a single product. Yet colas contain roughly 200 micrograms of 4-MI in a 20-ounce bottle.
That's over 12 times the allowable limit under Proposition 65, and that's in every bottle! Many people drink several bottles a day, further multiplying their exposure to this potential carcinogen.
If cola companies are going to continue to sell their products in California, then, they must now carry cancer warning labels in order to be in compliance with Prop 65. You can bet that a desperate effort is now under way by the cola industry to lobby California regulators and make sure 4-MI gets removed from any enforcement of Prop 65.
The cola industry wants everybody to think its products are wholesome and natural while forgetting about the health effects of phosphoric acid, aspartame and high-fructose corn syrup. Now, with 2-methylimidazole and 4-methylimidazole in the picture, there's yet another potentially cancer-causing chemical to worry about in colas.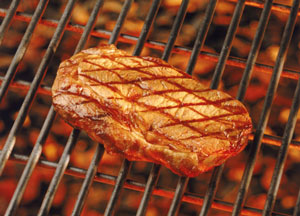 4. Grilled Red Meat: While grilling tastes delicious, scientists have discovered that preparing meats in this way - especially processed meats like hot dogs - releases a carcinogen called heterocyclic aromatic amines. When you grill red meat to the point of well-done, it changes the chemical and molecular structure of the meat.
Study Associates PFOS and PFOA with Impaired Fertility
Recent decades have seen a substantial decline in the number of children being born to women in developed countries. Much of this decline is likely attributable to sociocultural changes and increased access to birth control. But some studies suggest that exposure to environmental pollutants may play a role, perhaps by impairing fecundity, the ability to bear live children. Now a study by researchers at the University of California, Los Angeles (UCLA) has found that women who took longer to become pregnant were more likely to have higher blood levels of two common perfluorinated chemicals, perfluorooctane sulfonate (PFOS) and perfluorooctanoate (PFOA).
PFOS and PFOA are persistent manmade pollutants widely found in fabrics, carpets, food packaging, shampoo, nonstick cookware, insecticides, fire?fighting foam, and other household products, as well as in industrial surfactants and emulsifiers. Potential major sources of PFOA in the environment include the degradation of fluorinated alcohols used in these products. Animal studies have associated both PFOS and PFOA with increased pregnancy losses and disruption in sex hormone homeo?stasis and sexual maturation. Although previous studies have linked pollutants such as pesticides and polychlorinated biphenyls with delayed time to pregnancy, the UCLA study is the first to demonstrate a similar relationship with perfluorinated chemicals.
In the current study, the researchers measured maternal blood concentrations of PFOA and PFOS in 1,240 pregnant women who participated in the Danish National Birth Cohort from 1996 to 2002. Blood samples were drawn from weeks 4 through 14 of pregnancy, and women were asked at approximately week 12 how long it had taken to conceive and whether the pregnancy was planned.
Provided by ArmMed Media