Nut consumption associated with reduced risk of some types of cancer
Cancer and type 2 diabetes are two of the most significant public health burdens facing the world today, and currently available data suggests their prevalence is expected to continue to increase. Nut consumption has long been hypothesized to have a role in preventing both of these diseases, but until now evidence has been inconsistent. A new systematic review and meta-analysis published in Nutrition Reviews on June 16 shows that nut consumption is, indeed, associated with a decreased risk of certain types of cancer, but not type 2 diabetes.
Researchers at the Mayo Clinic in Rochester, Minnesota, and the University of Minnesota in Minneapolis, Minnesota conducted a systematic review and meta-analysis of 36 observational studies (which included 30,708 patients) on the disease-preventive powers of nut consumption to create a comprehensive analysis. Upon completion, the authors concluded: "nut consumption was inversely associated with risk of colorectal cancer, endometrial cancer, and pancreatic cancer, but not with other types of cancer or type 2 diabetes. Overall, nut intake was associated with a decreased risk of cancer."
While many studies have evaluated the disease-preventive powers of nuts, the authors emphasize there is still a scarcity of available data on the relationship between individual types of cancer and nut consumption. Additional studies are consequently needed to more accurately assess these relationships.
"This is the first systematic review and meta-analysis study estimating the association between nut intake and risk of cancers. Our study suggests that nut consumption may be associated with reduced risk of cancers, which may have practical implication. Aligning with the known beneficial effect of nuts on heart diseases, our study may imply that individuals interested in making better food choices to reduce the risk of cancer and heart disease can consider consuming nuts, after considering the caloric and fat contents of different types of nuts", said Lang Wu, the lead author of this study.
Research also shows people who eat nuts weigh less
In the largest study of its kind, people who ate a daily handful of nuts were 20 percent less likely to die from any cause over a 30-year period than were those who didn't consume nuts, say scientists from Dana-Farber Cancer Institute, Brigham and Women's Hospital, and the Harvard School of Public Health.
Their report, published in the New England Journal of Medicine, contains further good news. The regular nut-eaters were found to be more slender than those who didn't eat nuts, a finding that should alleviate the widespread worry that eating a lot of nuts will lead to overweight.
The report also looked at the protective effect on specific causes of death.
"The most obvious benefit was a reduction of 29 percent in deaths from heart disease - the major killer of people in America," said Charles S. Fuchs, MD, MPH, director of the Gastrointestinal Cancer Treatment Center at Dana-Farber, who is the senior author of the report. "But we also saw a significant reduction -11 percent - in the risk of dying from cancer," added Fuchs, who is also affiliated with the Channing Division of Network Medicine at Brigham and Women's.
###

Charles Fuchs, MD, MPH
This article also discusses:
General health benefits of nuts
Components of nuts that may explain their cancer-preventive powers
Pancreatic cancer is among the most fatal malignancies, representing the fourth most common cause for cancer-related mortality in the United States. Primary prevention remains the most feasible approach to reducing the incidence of pancreatic cancer, which makes the identification of modifiable risk factors essential. Unfortunately, very few modifiable risk factors have been identified. The 2009 World Cancer Research Fund/American Institute for Cancer Research report concluded that, beyond cigarette smoking, body fatness was the only convincing modifiable risk factor for pancreatic cancer.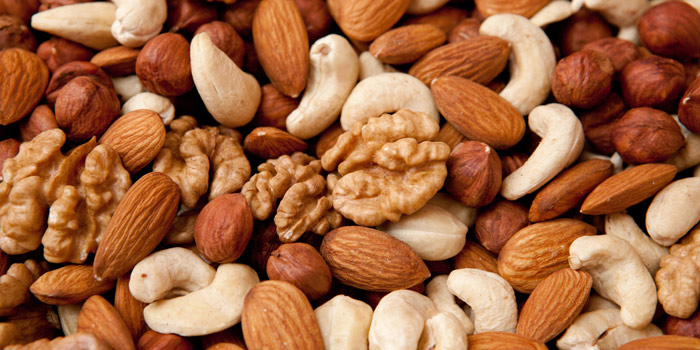 Extensive evidence suggests that common states of insulin resistance such as obesity (Larsson et al, 2007) are associated with an increased risk of pancreatic cancer - possibly mediated through chronic hyperglycaemia and hyperinsulinaemia. Type II diabetes mellitus, a potential consequence of pancreatic cancer, is also a risk factor for this fatal disease (Everhart and Wright, 1995; Elena et al, 2013). Recent studies demonstrate that elevated baseline plasma insulin and C-peptide significantly increased subsequent pancreatic cancer risk (Stolzenberg-Solomon et al, 2005; Michaud et al, 2007). Nuts are a rich source of bioactive components such as unsaturated fatty acids, fibre, and magnesium (Brufau et al, 2006), which may improve insulin sensitivity (Anderson et al, 1987; Paolisso et al, 1989; Riserus et al, 2009). Data from the National Health and Nutrition Examination Survey (NHANES) found that nut consumption was associated with decreased insulin levels (O'Neil et al, 2012) and a lower prevalence of abdominal obesity and metabolic syndrome (O'Neil et al, 2011). Prospective epidemiologic data have further shown that regular nut consumption is associated with lower risk of type II diabetes (Jiang et al, 2002; Villegas et al, 2008). Because diabetes is a consistent risk factor for pancreatic cancer, and insulin resistance is an important underlying mechanism (Giovannucci and Michaud, 2007), we investigated prospectively the association between nut consumption and risk of pancreatic cancer in a large cohort of women in the Nurses' Health Study (NHS).
###

Molly Grote
.(JavaScript must be enabled to view this email address)

Oxford University Press USA
Provided by ArmMed Media