You are here : health.am > Health Centers > Drug News
Drug News
Not long ago, choosing a pain reliever meant finding one that eased your pain without being too hard on the stomach. Now, research suggests…

Adams Respiratory Therapeutics Inc. said U.S. health regulators asked companies to stop manufacturing and distributing unapproved timed-release dosage forms containing guaifenesin, used for treating…

Scientists have found evidence that the cox-2 inhibitor celecoxib, a common pain reliever used to treat arthritis, may offer a new way to reduce…

Over-the-counter pain medication naproxen and prescription pain reliever celecoxib do not prevent Alzheimer's disease, according to a study published April 25, 2007, in the…

Bird flu patients who get early treatment with the antiviral drug Tamiflu have the best chances of surviving, but steroid treatments can do more…

For some patients seeking relief from frequent tension-type headaches, the antidepressant Effexor XR may reduce the number of days with headache, according to results…

A Johnson & Johnson unit said on Tuesday it is recalling liquid versions of a prescription medicine used to treat ringworm and other fungal…

Preventive treatment with topiramate (Topamax) is associated with a reduction in lost productivity due to migraines, researchers report.
Using data from two trials, Dr.…

Swiss pharmaceutical maker Novartis AG said Tuesday it has received U.S. approval for the hypertension drug Tekturna - a potential blockbuster that has…

More than £100m a year is spent on them and millions of people take them daily in the belief they boost health, but…

An old drug once used to study epilepsy can help improve learning in mice with a form of Down syndrome and also might help…

We all know that iron deficiencies are dangerous, but also too much iron is bad for our health. Our body stores excess iron in…

Treatment with low doses of levetiracetam, the active ingredient in the drug Keppra, appears to be effective by itself for controlling newly diagnosed epilepsy,…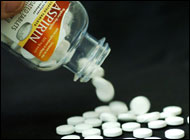 Many cancer patients who have heart attacks often are not treated with life saving aspirin given the belief in the medical community that they…

U.S. regulators on Wednesday approved a new once-a-day treatment for schizophrenia derived from the active ingredient in Johnson & Johnson's blockbuster schizophrenia treatment Risperdal.
…

Drug giant Eli Lilly has engaged in a decade-long effort to play down the health risks of its top-selling medication, the schizophrenia drug Zyprexa,…

Novartis AG said on Monday its experimental leukemia drug works in about half of all patients who develop resistance to Gleevec, the leading drug…

An experimental drug from Merck & Co. showed effectiveness in treating certain types of leukemia that have proven resistant to both Novartis AG's Gleevec…

On December 2, 2006, FDA was notified that Pfizer will suspend a large, Phase 3 trial evaluating the investigational cardiovascular therapy torceptrapib/atorvastatin (T/A) due…

Pfizer has said that the European Patent Office (EPO) has issued an opinion upholding, in its entirety, the company's calcium salt patent covering Lipitor.
…

An FDA advisory panel on Wednesday recommended that a warning label be added to tamoxifen, an agency-approved drug for treating and preventing breast cancer,…

The U.S. Food and Drug Administration needs more staff and funding to fix its monitoring of drug safety after medicines are on the market,…

There is a drug-drug interaction between ibuprofen and aspirin, with ibuprofen affecting aspirin's ability to inhibit platelet clumping or aggregation that can lead to…

The U.S. Food and Drug Administration has approved Noxafil (posaconazole) to prevent fungal infections caused by certain molds and yeast-like fungus called Aspergillus and…

Caraco Pharmaceutical Laboratories, Ltd., (CPD) announced that the U.S. Food and Drug Administration (FDA) has granted final approval for the company's Abbreviated New Drug…