You are here : health.am > Health Centers > Dental Health
Dental Health
Routine dental treatment can reduce blood glucose levels in people with type 2 diabetes who have preexisting gum disease.
Researchers analyzed seven studies of…

Healthy pregnant women can be at risk for pregnancy problems caused by oral bacteria. Researchers from Case Western Reserve University have begun to understand…

Previous studies have explored the effect of periodontal treatment, irrespective of efficacy of treatment, in reducing infant prematurity. In a study titled "Risk…

For some Canadians, any cut such as from dental work or surgery can cause days or more of bleeding. Although they are not…

Whether or not children receive regular dental care is strongly associated with their parents' history of seeking dental care. A new report to appear…

Everyone who has ever seen a toothpaste commercial knows that fluoride is the ingredient that helps fight tooth decay, but a new review…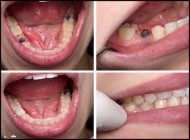 Dental implants, rather than a fixed bridge or removable dentures, are an increasingly popular method of replacing teeth lost to an accident, gum diseases…

Tooth enamel is tough, harder even than skeletal bone. But even with good dental hygiene, the enamel protecting teeth may show signs of decay…

Elevated dental plaque acid is a risk factor that contributes to cavities in children. But eating bran flakes with raisins containing no added sugar…

Amid the on-going controversy over the safety of mercury-containing dental fillings, a University of Saskatchewan research team has shed new light on how the…

A new study indicates dentists can play a potentially life-saving role in health care by identifying patients at risk of fatal heart attacks and…

There is a high prevalence of nocturnal teeth grinding, or bruxism, in patients with obstructive sleep apnea (OSA), particularly in Caucasians. New research presented…

Patients with dry mouth caused by medications they are taking can safely use 10% hydrogen peroxide whitening strips, researchers report online by the…

Chronic periodontitis, a form of gum disease, is an independent risk factor for head and neck squamous cell carcinoma. This suggests the need for…

People with red hair seem particularly nervous about visiting the dentist, and genetics may explain why, according to a new study.
A few studies…

Our modern dental woes have a lot do to with modern whole-body ills like heart disease and diabetes, according to the author of…

A therapy that helps regenerate receding gum tissue seems to hold up over the long term - and may offer patients an alternative to…

The best way to keep bacteria from doing any damage is to stop them in their tracks before they can start down their pathological…

The National Institutes of Health has awarded $1.3 million to an interdisciplinary team that will investigate how people's oral health might affect their memory,…

Approximately ninety-one percent of dentists say patients complaining about dry mouth are taking multiple medications, according to a nationwide member survey conducted by the…

Additional research is called for and patients with moderate to severe periodontitis should receive evaluation and possible treatment to reduce their risk of atherosclerotic…

Keeping your teeth brushed and flossed can cut down on gum disease, drastically reducing risk of heart attack and stroke, dentists have warned for…

Copenhagen, Denmark, Friday 12 June 2009: Over half (56%) of people with rheumatoid arthritis (RA) also have periodontitis (a chronic inflammatory disease of the…

Vienna, Austria: The relationship between the dental disease periodontitis and coronary heart disease (CHD) has been known for several years. Although a genetic link…

A cup of green tea per day may help keep gum disease at bay, a new study suggests.
Researchers found that among middle-aged Japanese,…