You are here : health.am > Health Centers > Dermatology
Dermatology
The beginning of summer always seems to be accompanied by an onslaught of sunscreens. The market is crowded with lotions and sprays, powders and…

Results from a large U.S. study suggest women who regularly exercise vigorously, including runners and aerobics buffs, may be less likely to get psoriasis…

A study of U.S. women suggests that vigorous physical activity may be associated with a reduced risk of psoriasis, according to a report published…

The American Academy of Dermatology (Academy) today reiterated the safety and effectiveness of sunscreens to protect against the damaging effects from exposure to ultraviolet…

Eye color may be an indicator of whether a person is high-risk for certain serious skin conditions. A study, led by the University of…

Though the indigenous people of the Solomon Islands all have dark skin, about 5% to 10% also have naturally blond hair – and a…

First it was beer, then it was cigarettes. Finally, researchers have found a vice that's not tied to psoriasis: coffee.
In fact, when Dr.…

A clinical study co-led by the Montreal Heart Institute and Innovaderm Research Inc., which was presented today at the annual meeting of the American…

On the surface, it would seem as though the skin condition melasma (commonly referred to as the "mask of pregnancy") and tattoos would have…

After a live video consult with a dermatologist, almost every patient who'd previously been checked out by a primary care doctor had a change…

About 300 000 Swedes suffer from the difficult to treat disease, which manifests itself in scaly and often itchy patches on the skin. The…

Young adults who take oral antibiotics for acne may be more likely to get sore throats, according to a new study.
While it's not…

If you have psoriasis or a family history of psoriasis and you are experiencing joint pain and swelling, you could have psoriatic arthritis, a…

Engineers have developed a device platform that combines electronic components for sensing, medical diagnostics, communications and human-machine interfaces, all on an ultrathin skin-like patch…

Children who are overweight or obese have a significantly higher prevalence of psoriasis, and teens with psoriasis, regardless of their body weight, have higher…

Researchers from Boston University School of Medicine (BUSM) have discovered new details about the underlying mechanisms of skin hardening syndromes. The team connected pharmacological…

A new survey of patients at dermatologists' offices sends a clear message to doctors about their attire: scrap the necktie, but don't lose the…

Very tight braiding or weaving is linked to a permanent type of hair loss that affects many African American women, new research suggests.
While…

Building on the evidence-based findings of five previously published guidelines of care that examine the use of a variety of medical therapies for the…

Too many Americans are ignoring the dangers of indoor tanning, or they are unaware of the dangers, as evident by the number of people…

Like a fence or barricade intended to stop unwanted intruders, the skin serves as a barrier protecting the body from the hundreds of allergens,…

Atopic dermatitis (also known as atopic eczema) is a chronic and extremely painful inflammation of the skin that frequently occurs in early childhood, generally…

The widely used baldness drug finasteride (Propecia) indeed boosts hair growth in men, but some may develop sexual problems, according to a new analysis.
…

Children with eczema, a chronic skin condition that often begins in childhood, have a greater risk of developing asthma and food allergies. The…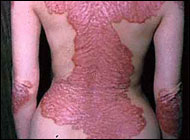 People with the skin condition psoriasis are more likely to be depressed, anxious and thinking about suicide, than those without the problem, according to…