Psoriasis tied to depression, suicide
People with the skin condition psoriasis are more likely to be depressed, anxious and thinking about suicide, than those without the problem, according to a new study of British adults.
Researchers found that nearly one in ten people with mild psoriasis had been depressed at some point - more than twice as many as among people without the disease. And in severe cases, the depression rate rose even further.
"Psoriasis has a profound impact on patients' well being," said Dr. Joel Gelfand, of the University of Pennsylvania in Philadelphia, who worked on the study. "It's likely that there are tens of thousands of extra cases of depression and suicidal thoughts due to psoriasis."
Dr. Jerry Bagel, a psoriasis expert who wasn't involved in the study, said the results weren't surprising.
"People with psoriasis are wearing long-sleeve clothing in August," Bagel, of the Psoriasis Treatment Center of Central New Jersey, told Reuters Health.
"You get a 17-year-old girl with psoriasis on three percent of her body, and she is going to hide," he added.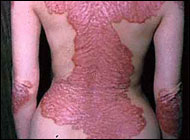 Psoriasis affects up to three in 100 Americans, according to the new report, published in the Archives of Dermatology. It results from overactive immune cells, which attack healthy skin and cause red, itchy patches and rapid build-up of scales.
Almost three-quarters of people with the condition say it makes them feel angry and self-conscious, a recent survey from the National Psoriasis Foundation shows.
For the new study, the researchers tapped into a population-wide British database of electronic medical records from 1987 to 2002, including roughly 146,000 people with mild psoriasis, 4,000 with severe psoriasis, and 767,000 psoriasis-free individuals.
Compared to people without the condition, those with psoriasis were at higher risk of developing psychological problems, especially at younger ages.
About 26 per 1,000 afflicted individuals per year were diagnosed with depression, 21 with anxiety and one with suicidal thoughts and actions.
This means that about 10,400 diagnoses of depression may be chalked up to psoriasis each year in the UK, according to the report. For anxiety and suicide fantasies, the numbers are 7,100 and 340, respectively.
Exactly what accounts for the link between mental health and psoriasis is unclear. There is the obvious social embarrassment, traditionally considered at the root of the drinking and obesity problems that sometimes accompany the condition.
But there could also be another, less obvious explanation.
"Before we thought that you got psoriasis, you got depressed, you got obese," said Bagel. "But it seems like there might be an underlying mechanism that unifies all these symptoms."
People with psoriasis have higher levels of inflammatory chemicals in their blood, for instance. In principle, this could be part of the explanation why these people have more heart disease and diabetes.
Bagel said the right medications - such as steroid creams, light therapy, or pills - helped up to 90 percent of his patients. He said he regularly saw skin improvements of more than three-quarters.
For those who can't clear their itchy skin and continue to experience psychological effects, Gelfand said there were several good treatment options.
Apart from psychiatric medications, he said, meditation and cognitive behavioral therapy had also been shown to be effective, likely because they reduce stress.
"When I counsel my patients," he said, "I tell them they need to be aware of their whole health, not just their skin."
SOURCE: Archives of Dermatology, August 16, 2010.
Provided by ArmMed Media