Rainbow research reveals young children with asthma visit emergency department most often
New research from a University Hospitals Rainbow Babies & Children's Hospital (UH Rainbow) study found that children ages 1 to 3 years accounted for one-fifth of all emergency department (ED) visits caused by complications from asthma, representing the highest proportion of visits among asthma patients under age 21. In addition, 55 percent of all ED visits due to asthma occurred in boys, and fall months – September, October and November - had a relatively high proportion of visits compared to other times of the year. The research was presented at the American Academy of Pediatrics (AAP) National Conference in Orlando.
Asthma is the most common chronic childhood disease, affecting close to seven million children in the U.S. More than two-thirds of asthma-induced ED visits occurred among children residing in areas with annual household income levels below $50,000. The study also found the total asthma-related ED charges across the U.S. totaled $2.6 billion, averaging to about $1,300 per visit. Medicaid paid for half of all these visits, while private insurance plans paid for about 35 percent. The majority of children were treated and discharged routinely from the ED, while about one in 10 were admitted to the hospitals as patients.
"This study looked at more than 2.3 million ED visits among children with asthma, and we identified some interesting trends that give a baseline to find better ways to help children with asthma control this very treatable disease," said Aparna Roy, MD, MPH, lead author of the study and resident at UH Rainbow and Case Western Reserve University School of Medicine. "These findings reinforce the need to educate parents, especially those with children at higher risk, about how to manage the disease on a day-to-day basis to avoid costly emergency visits."
At AAP, Dr. Roy also presented an analysis of adverse drug events (ADE) among hospitalized children in the U.S. from 2003 to 2010. Results revealed that medication errors and ADEs in pediatric inpatient settings gradually increased between 2003 and 2010, although the cause for this increase requires further study. Overall, of the more than 62 million hospitalizations among children in the U.S. during this time frame, less than one percent experienced ADEs.
"While the overall incidence of adverse drug events among hospitalized children was low, nearly half a million children experienced ADEs and the steady upward trend of ADEs among this population is worrisome. We are planning additional research to evaluate whether better ADE reporting may play a role in this increase and if we can identify common causes so we can better reduce the number that occur," said Dr. Roy.
###
Childhood Asthma
What You Should Know About Childhood Asthma
Asthma is the most common chronic disease of childhood, and yet many parents know little about it. In the United States, it is estimated that nearly 5 million youngsters under age 18 have this disease. In 1993 alone, asthma was the reason for almost 200,000 hospital stays and about 340 deaths among persons under age 25.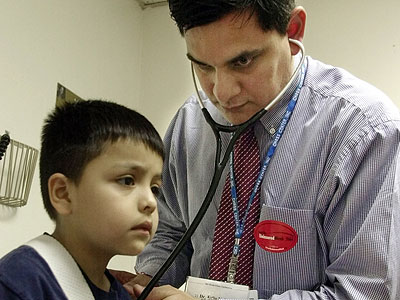 The numbers of young people and children with asthma is rising. In children ages 5-14 years, the rate of death from asthma almost doubled between 1980 and 1993. The disease is more common in blacks and in city-dwellers than in whites and those who reside in suburban and rural areas. A government survey of young people with asthma (those aged 15-24 years) showed that more blacks than whites died of the disease from 1980 to 1993. Among children aged 0-4 years in 1993, blacks were six times more likely to die from asthma than whites. Among children aged 5-14, blacks were four times more likely than whites to die of the illness.
Although asthma can occur in people of any age, even in infants, most children with the illness developed it by about age 5. Asthma seems to be more common in boys than in girls in early childhood. The survey mentioned above showed that in 1993, boys aged 0-4 were 1.4 times more likely than girls the same age to die from asthma. This increased risk remained in boys aged 5-14, who were 1.3 times more likely to die from asthma than girls in that age group. By the teen years, the risk seems to even out between girls and boys.
These numbers can be cause for alarm, but the best defense against childhood asthma begins with knowledge of the disease. This is the best way to ensure that, if your child does develop asthma, you and your doctor can work together to control the illness.
About the Studies
H2022: Hospital Medicine Scientific Poster Presentations

Epidemiological Estimates and Outcomes Associated with Asthma Attacks in Children in United States
October 27, 8:00 AM-3:30 PM
Dr. Roy presented findings from an analysis of ED visits caused by asthma exacerbations in patients aged 21 years of age and under. The study used the 2009 Nationwide Emergency Department Sample of Healthcare Cost and Utilization Project sponsored by the Agency for Healthcare Research and Quality to determine characteristics and outcomes among patients with asthma visiting ED's.
H2021: Critical Care Poster Walk Rounds and Break
Adverse Drug Events in Hospitalized Children: Estimates from the Nationwide Inpatient Sample 2003-2010
October 27, 9:30 AM-10:45 AM
The refrain has become familiar: "asthma is one of the most common chronic childhood conditions in the United States." Asthma continues to present a major burden for affected children and their families, a challenge to public health organizations and health care providers, and a puzzle to researchers searching for its primary causes. Millions of children in the United States are affected by asthma, which is a major cause of childhood disability. Asthma may limit a child's ability to play, learn, and sleep; it necessitates potentially complex and expensive interventions and results in both direct medical costs and indirect costs (eg, missed school days and work days). Although scientific advances have greatly improved the understanding of the mechanisms that cause asthma attacks and have led to effective medical interventions, the majority of children with asthma still suffer from attacks, overall rates of adverse outcomes have remained relatively resistant to intervention efforts despite promising progress demonstrated for some innovative programs, large racial and income differences continue to widen, and identification of the primary cause of asthma and the reasons for its increasing prevalence remains frustratingly complex.
One component of the response of the Centers for Disease Control and Prevention (CDC) to asthma is surveillance; asthma surveillance involves compiling asthma-specific data from multipurpose national data systems regarding prevalence, health care use, and mortality rates. On the basis of this data compilation, the CDC produced a series of 3 reports on asthma from 1960 through 2004. This report focuses specifically on childhood asthma since 1980; it updates a previous study of trends in childhood asthma,7 provides new details according to age and race/ethnicity, and adds data on the adoption of asthma control measures. Although estimates of prevalence, health care use, and mortality rates are major indicators of the impact of childhood asthma, symptoms that are not recognized or are not severe enough to warrant emergency care or hospitalization can still affect quality of life. Therefore, this report also addresses the broader context and responses to childhood asthma by reviewing CDC programs that track symptoms and disease management and that provide timely relevant data to health care professionals, policymakers, and child caretakers at the community level. High-priority CDC goals include improved tracking of asthma symptom severity and control, measurement of the magnitude of local asthma burdens, support for and evaluation of asthma intervention and treatment programs, and dissemination of interventions that have been demonstrated to be effective in reducing symptoms and adverse outcomes.
Dr. Roy presented an analysis of children 21 years of age and younger in the U.S. who experienced an ADE while in the hospital. The study conducted a retrospective analysis of the Nationwide Inpatient Sample (NIS) for the years 2003 to 2010, identifying cases where a patient had an external cause of injury code. NIS is the largest all-payer hospital discharge database that is a part of the Healthcare Cost and Utilization Project sponsored by the Agency for Healthcare Research and Quality.
About University Hospitals Rainbow Babies & Children's Hospital
Located on the campus of University Hospitals Case Medical Center in Cleveland, Ohio, University Hospitals Rainbow Babies & Children's Hospital is a 244-bed, full-service children's hospital and academic medical center dedicated to the healthcare needs of children. A trusted leader in children's healthcare for more than 125 years, UH Rainbow Babies & Children's Hospital consistently ranks among the top children's hospitals in the nation. As the region's premier resource for pediatric referrals, UH Rainbow Babies & Children's Hospital's dedicated team of more than 1,300 pediatric specialists uses the most advanced treatments and latest innovations to deliver the complete range of pediatric specialty services for more than 700,000 patient encounters each year. Learn more at RainbowBabies.org.
Among the nation's leading academic medical centers, UH Case Medical Center is the primary affiliate of Case Western Reserve University School of Medicine, a nationally recognized leader in medical research and education.
###
Katelyn McCarthy
.(JavaScript must be enabled to view this email address)
University Hospitals Case Medical Center
Provided by ArmMed Media