Effect of natural sweetener Xylitol in preventing tooth decay still unproven
New research out today concludes that there is limited evidence to show that xylitol is effective in preventing dental cavities in children and adults.
Xylitol is a natural sweetener that is widely promoted globally, and can be found in wide range of everyday products including sugar-free chewing gum, toothpaste, gels, lozenges and sweets.
Xylitol is a popular sugar substitute in sweets and it is already known to cause less damage to teeth than sugar. It has also been suggested that the addition of xylitol to products may help to prevent Tooth decay by stopping the growth of decay-producing bacteria. However, according to new evidence published in the Cochrane Library there is little high quality evidence that it is beneficial in the fight against Tooth decay, which affects up to 90% of children and most adults worldwide.
The authors gathered together data from 5,903 participants in ten different studies. In most cases, the studies used such different methods that the researchers could not combine the results to create a summary effect estimate. Based on information from 4,216 school children who took part in two Costa Rican studies, they found low quality evidence that levels of Tooth decay were 13% lower in those who used a fluoride toothpaste containing xylitol for three years, compared to those who used a fluoride-only toothpaste. For other xylitol-containing products, such as xylitol syrup, lozenges and tablets, there was little or no evidence of any benefit.
Lead researcher, Philip Riley of the School of Dentistry at the University of Manchester, said, "This Cochrane review was produced to assess whether or not xylitol could help prevent Tooth decay in children and adults. The evidence we identified did not allow us to make any robust conclusions about the effects of xylitol, and we were unable to prove any benefit in the natural sweetener for preventing Tooth decay. The limited research on xylitol-containing toothpastes in children may only be relevant to the population studied. He added, "For other products containing xylitol we were unable to determine whether they were beneficial. We were particularly surprised to see such a lack of evidence on xylitol-containing chewing gums."
What is xylitol?
Xylitol is a natural sugar alcohol that helps prevents cavities. You may recognize other sugar alcohols used in sugarless products, such as mannitol and sorbitol. Xylitol is the sugar alcohol that shows the greatest promise for cavity prevention. It is equal in sweetness and volume to sugar and the granular form can be used in many of the ways that sugar is used, including to sweeten cereals and hot beverages and for baking (except when sugar is needed for yeast to rise)
Xylitol has a wide variety of uses and benefits, from improving the health of your teeth to maintaining upper respiratory health. When properly used, Xylitol use results in fewer incidents of Tooth decay.
It's Effective
Frequently eating foods high in sugars and starches can promote Tooth decay. Xylitol may reduce the risk of Tooth decay. Many large-scale clinical studies have shown it to be related to having long-lasting dental benefits. Over 25 years of clinical testing confirms that xylitol is the best sweetener for teeth, which has led to official endorsements by dental associations in Finland, Norway, Sweden, England, Ireland, Estonia and the Netherlands of products containing high levels of this sweetener.
It's Natural
Xylitol is right here, inside, already. Our bodies naturally produce from 5 to 10 grams every day from other food sources using established energy pathways. It is not a strange or artificial substance, but a natural, normal part of everyday metabolism. It is widely distributed throughout nature in small amounts, with some of the best sources being delicious fruits, berries, mushrooms, lettuce, hardwoods, and corncobs.
Xylitol is Safe and Convenient
In the amounts clinically proven to provide amazing oral health benefits (less than 15 grams per day), it is safe for everyone, and can be conveniently delivered to your teeth via chewing gum, tablets, toothpaste, mouthwash, or even candy. You can implement your xylitol program anywhere, anytime. It fits right in with the most frantic schedules. If chewing is uncomfortable, xylitol mints or candies can also stimulate saliva, the natural tooth protector. You don't need to change your normal routine to make room for xylitol.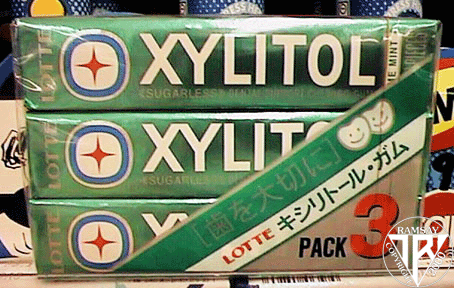 Tooth decay still unproven " align="right" /> Several of the studies included in the Cochrane review did not report sufficient information on the side effects of xylitol, which can include bloating, diarrhoea and laxative effects. Philip Riley remarked, "We expected all studies to report adverse effects as an outcome. Sugar-free gums, sweets, mints and other products are well-known for their gastrointestinal effects and these should be clearly reported in future studies."
###
Evelyn Martinez
.(JavaScript must be enabled to view this email address)

Wiley
Journal
Cochrane Library
Provided by ArmMed Media