Women Lack Guidance for Sex After MI
Women resume sex with partners after a heart attack, but do so with worries of another one and without counseling from a healthcare professional, researchers found.
Among a sample of women who had suffered a mycoardial infarction (MI) and who had a significant other, most resumed sexual activity within 4 weeks of the MI, though with less frequency and more physical, nonsexual intimacy than prior to the heart attack, according to Emily Abramsohn, MPH, of the University of Chicago, and colleagues.
A minority of women (35%) received counseling from a healthcare professional about resuming sex following an MI, and those that did only received it after initiating the discussion at the time of hospital discharge, they wrote online in the Journal of the American Heart Association.
Although more than 80% of patients who experience an MI survive to 1 year, long-term outcomes are not well-documented, particularly in the realm of sexual activity, the authors noted.
"Cardiac rehabilitation guidelines include identification and management of sexual dysfunction, yet evidence-based strategies to improve sexual outcomes, especially in women, following an MI are very limited," they added.
"The problem here is that women would like to resume sex after their heart attack, but they would like to be better informed about what's safe so they can have a more enjoyable sex life," Stacy Lindau, MD, of the University of Chicago Medicine and study co-author, told MedPage Today.
Women resume sex with partners after a heart attack, but do so with worries of recurrent myocardial infarction and without counseling from a healthcare professional.
Note that only a minority of women received counseling from a healthcare professional about resuming sex following a myocardial infarction (MI), and those that did only received it after initiating the discussion at the time of hospital discharge.
The authors attempted to understand and inform evidence-based strategies in improving female sexual outcomes post MI through interviews with 17 female MI patients who had a significant other and who were participating in the TRIUMPH (Translational Research Investigating Underlying Disparities in Acute Myocardial Infarction Patients' Health Status Registry) study, a prospective, multisite, longitudinal study of MI patients with a mean 12-month follow-up.
Of participants in TRIUMPH, 47% of men and 35% of women received counseling about resuming sexual activity after MI. Those who were not counseled were significantly less likely to be sexually active at 1-year follow-up - an effect that was more pronounced in women, they noted.
Sex can kill you, especially if you don't have enough of it.
That's the screwy lesson from a new study which says that for out-of-shape folks, sporadic strenuous activity, like sex, is associated with a 2.7 times increase in the risk of myocardial infarction (doctor speak for heart attack).
"Anecdotal evidence has suggested that physical activity, as well as other acute exposures, such as sexual activity and psychological stress, can act as triggers of acute cardiac events," the study authors wrote.
That's a bummer, but there's a fun cure - more sex.
Turns out, it's the sporadic part that's a problem. If you are getting enough physical exercise (and sex can help here) then your risk of getting into trouble while getting into trouble goes way down.
The researchers, led by Dr. Issa J. Dahabreh of Tufts Medical Center in Boston, found that your chance of getting a heart attack during physical activity goes down 45 percent for every additional time you do physical activity that week.
And this funny business is actually serious business. Americans have more than one million heart attacks each year. Coronary heart disease remains the nation's leading cause of death, according to the American Heart Association.
###
(CBS)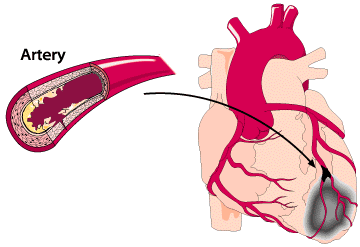 Participants in TRIUMPH were categorized in age groups of 55 to 64 years, 65 to 74 years, and 75 years and older and were interviewed within 18 months after the end of the study or within 30 months of their MI - a mean 24 months.
Women in the study were interviewed "to gain contextualized, patient-driven understanding of communication and counseling about sexuality after an MI and to elicit themes related to the desired features of an effective intervention to address sexual outcomes following an MI," the authors explained.
Interviews were coded with a theme and keyword identifiers, and patterns were formed from the discussions regarding respondent characteristics, sexuality and recovery, issues related to resumption of sexual activity, and patient-physician communication about sexual activity, as well as the initiation, context, timing, and content of an intervention to improve sexual outcomes.
Median participant age was 60, with a range of 43 to 75. Diabetes was present in four patients and four patients reported having stress, though patients generally reported their health as "good to very good." Another four women reported their partner had heart disease or a history of MI.
Prior to MI, most women rated their sex life as positive or neutral—with terms like active, routine, very good, and normal—but "a prevalent theme of indifference about sex was common post MI." Common complaints in sexual function post MI included older age, medical problems, fatigue, menopause, medication side effects, and the heart attack or its related procedures, such as loose staples.
Although sexual activity declined for most women, nonsexual physical intimacy increased, as well as satisfaction. Some reported that sex post MI was life-affirming "and important for regaining a sense of normalcy."
One participant said that she "just didn't want to be stigmatized as a heart patient at that point."
Most women resumed sex within 4 weeks of an MI, and all but one had resumed sex after 6 months post MI. Both respondents and their partners worried that sex after the heart attack would be harmful, and some attributed that fear as the driving factor behind a loss of sexuality.
The authors also cautioned that the "vast majority of women interviewed did not recall receiving instruction from their physicians regarding the resumption of sex post MI," and among the five who did, most initiated the discussion. However, many described the discussion as vague or confusing, including one who said their physician told her that she could resume sex "Just whenever, it's fine."
The patients said they wanted to know risk factors for complications during sex, as well as when they would know it was safe to resume sex.
Participants said they would prefer a cardiologist, primary care physician, and/or gynecologist to counsel them on sexual activity after an MI, and that they would prefer a private discussion to a group discussion on the matter. Those who thought group counseling was acceptable "suggested an all-female discussion session in the context of cardiac rehabilitation."
The authors added that the study was limited by its population of U.S. patients, social response bias, and inability to interpret nonverbal expressions. The study was also limited by recall bias and a population sample of mostly white and married participants.
The study was supported by the National Heart, Lung and Blood Institute, the Role of Gender on Outcomes of Young AMI Patients grant, and the National Institute on Aging.
The authors received support from Medtronic and a grant salary.
###

Primary source: Journal of the American Heart Association
Source reference: Abramsohn EM, et al "'I'm not just a heart. I'm a whole person here': a qualitative study of women with MI to improve sexual outcomes" J Amer Heart Asso 2013.
Provided by ArmMed Media