United co-parenting may deter kids' "acting out"
When mothers and fathers support each other as parents, their preschool children are less likely to develop "acting out" behaviors.
"Supportive co-parenting involves warmth and cooperation between parents when parenting their child together," Professor Sarah Schoppe-Sullivan, of Ohio State University in Columbus, told Reuters Health.
For example, she explained, if one parent tells the child to "sit down" the other parent might echo the first parent's request by saying, "please sit down now."
Young children with low levels of self-control are prone to temper tantrums, disobedience, fighting, or the inability to sit still and concentrate, but this behavior is less likely to develop if parents present a united front and support each other, Schoppe-Sullivan and colleagues report in the Journal of Child Psychology and Psychiatry.
The researchers videotaped the interactions of 92 families - a mother, a father, and a 4-year old child - as they participated in two types of 10-minute play. During these observations the investigators rated co-parenting skills and the children's behaviors.
To assess any changes in the children's behaviors over time, the researchers also compared mothers' and teachers' reports on the children's behavior traits at age 4 and again at age 5.
Children who had difficulty controlling their reactions and behaviors at 4 years of age got worse over the subsequent year "only when their parents were low on supportive co-parenting," Schoppe-Sullivan and colleagues report.
These findings indicate that "support between parents is essential," said Schoppe-Sullivan.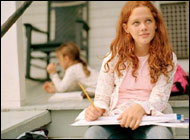 She and her colleagues call for further research to assess exactly what it is about co-parenting that benefits a child's behavior over time.
Co-parenting may directly model appropriate behavior for children or may help parents "use more effective individual parenting strategies, thus helping their children to learn or maintain appropriate behavior," Schoppe-Sullivan commented.
SOURCE: Journal of Child Psychology and Psychiatry, published online January 21, 2009
Provided by ArmMed Media