'Tweens' double use of diabetes drugs
America's tweens more than doubled their use of type-2 diabetes medications between 2002 and 2005, with girls between 10 and 14 years of age showing a 166 percent increase. The likely cause: Obesity, which is closely associated with Type 2 diabetes.
The finding is included in a study of chronic medication use in children 5 to 19 reported Wednesday, Nov. 7 at the annual meeting of the American Public Health Association by researchers from the Saint Louis University School of Medicine and School of Public Health and pharmacy benefit manager Express Scripts. In addition to diabetes, utilization patterns for blood pressure, cholesterol, asthma and depression medications were also examined.
"Across every chronic medication class we examined over this four year period of time, children's use increased, with varying patterns of growth across males and females and age groups," said Emily R. Cox, Ph.D., RPh, senior director of research at Express Scripts.
For example, the number of males between 15 and 19 using a blood pressure drug increased by 15.4 percent even as the number of females in the age group taking the drugs, called antihypertensives, declined by 1.6 percent.
On the other hand, the number of females between 15 and 19 taking an anti-depressant increased by 6.8 percent while, for males in the same age group, utilization declined slightly.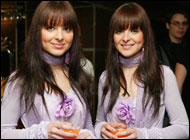 This increase in anti-depressant use among 15 to 19 year old girls was a striking exception to decreases for boys and girls 5 to 9 and boys 10 to 19. It also occurred despite a Public Health Advisory released by the Food and Drug Administration in October 2003, regarding anti-depressant use by children. Among all children, the prevalence of antidepressant use had been increasing prior to the advisory after which it decreased.
With asthma, children age 5 to 9 accounted for the largest increase in the use of controller medication among the three age groups at 67.3 percent as compared to 38.8 percent for the 10 to 14 age group and 34.7 percent for the 15 to 19 age group.
"This may be explained by concerns over long-term side effects of these medications in children and/or greater physician office visits, and therefore greater likelihood of prescribing," explained Donna R. Halloran, M.D., MSPH, assistant professor of pediatrics at Saint Louis University School of Medicine.
"Overall, these patterns could reflect changing prescribing behaviors by physicians (anti-hypertensives), increases in the risk factors for chronic diseases (type-2 antidiabetics, antihyperlipidemics), increased office visit rates and therefore screening rates – particularly for females – or trends toward greater use of drug therapy as the preferred mode of treating children with chronic conditions," observed Sharon M. Homan, Ph.D., professor of community health at Saint Louis University School of Public Health.
###
The database used in conducting the study consists of ambulatory administrative pharmacy claims and eligibility information for over 3.5 million commercially-insured children enrolled with Express Scripts between 2002 and 2005.
Contact: Nancy Solomon
.(JavaScript must be enabled to view this email address)
314-977-8017
Saint Louis University
Provided by ArmMed Media