<!� google_ad_section_start �>
Massage and Other Hands-on Therapies can Help Reduce Pain
Massage, manipulation and other hands-on approaches can safely and effectively help with pain management.
The January issue of Mayo Clinic Women's HealthSource discusses the uses and benefits of massage, spinal manipulation, and Rolfing, as well as the Alexander technique and the Feldenkrais method.
Massage: Almost everyone feels better after the soothing strokes of a massage. This process involves applying pressure to the body's soft tissues by rubbing, kneading or rolling. There are a variety of techniques and styles, such as deep tissue massage, where deeper layers of muscle and connective tissue are manipulated. Another approach focuses on trigger points - muscle "knots" that are painful when pressed.
Massage can help reduce pain, muscle soreness and swelling. It can improve circulation, joint flexibility and range of motion. Massage has been shown to help those with chronic back pain, migraines, knee osteoarthritis and cancer.
Spinal manipulation: Also called spinal adjustment, this therapy is used to treat restricted spinal mobility. The goal is to restore spinal movement, improving function and relieving pain. The practitioner uses his or her hands to apply a controlled force or thrust to a joint of the spine. Some techniques are more rhythmic and less abrupt than others.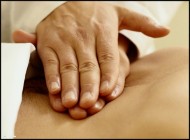 Spinal manipulation can provide short- and long-term relief for pain, especially if the pain hasn't improved with self-care. Manipulation may also boost psychological well-being and everyday functioning. Some evidence shows that the therapy may improve headache symptoms and neck pain.
Rolfing: Rolfing manipulates the fascia - the protective tissue that surrounds the muscles. It aims to improve posture and realign the body.
Patients lie on a massage table while the practitioner uses hands, knuckles, thumbs, elbows and knees to manipulate the patient's tissues. It can be painful.
There's little research on the effectiveness of Rolfing in relieving pain. Some patients report that Rolfing helps with flexibility and improves their posture. It may relieve stress and anxiety.
Alexander technique and Feldenkrais method: These therapies use different approaches, but both aim to help patients become more aware of their habitual or everyday movements. The theory is that changing movement can help with pain and other health problems.
Both therapies use touch and direction to help the patient become more aware of movement. An Alexander session might begin with the patient seated in a chair. The practitioner helps the patient adjust head, neck and spine positions.
With Feldenkrais, the patient may be lying down, sitting on a chair or standing. The practitioner guides the participant through a series of movements designed to improve flexibility and coordination. Research suggests that the Alexander technique can provide long-term relief for back pain.
These hands-on therapies probably won't replace pain relief medications but they could help manage chronic pain. A combination of approaches often works best in achieving long-term pain control.
Mayo Clinic Women's HealthSource is published monthly to help women enjoy healthier, more productive lives. Revenue from subscriptions is used to support medical research at Mayo Clinic.
Source: Mayo Clinic
Provided by ArmMed Media

Comments
[

+ Post Your Own

]
Now you're in the public comment zone. What follows is not Armenian Medical Network's stuff; it comes from other people and we don't vouch for it. A reminder: By using this Web site you agree to accept our Terms of Service. Click here to read the Rules of Engagement.

The problems creating neck pain are completely different than those creating back pain. Most people believe the same problem is at the roots of both because they both involve the spine. The truth of the matter is the spine is reacting to other forces acting on it.
So let's address both separately by giving you a a couple little tests. Let's start with your back pain. Lie down on your back with legs outstretched on the floor. Rest there for 30 seconds sensing whether your back pain gets worse or better. After 30 seconds, bend your knees to bring your feet close to your rear-end, resting on the floor. Rest there for 30 seconds.
Which felt better, knees straight or knees bent? If your back felt better with knees straight then you have a problem with your back flexing too easily or too much. If you felt better with your knees bent (as most peoples' backs do) then you have a problem with your spine having too much extension. It's simple to fix both of these conditions with a few exercises.
Next, let's talk about your neck pain. Here's another simple test. If you have right-sided neck pain or headaches, then place your right hand on top of your head. Make sure your head doesn't side-bend or rotate to make this happen. Rest there for 20 seconds. If your pain diminishes then it is caused by the shoulder blades sitting too low on your trunk. There are muscles that attach from the shoulder blades directly to the neck and skull which irritate them when the shoulder blade sits too low. This is also easily correctable.
I hope this helps you get to the root causes of your pain so you can fix yourself.

Thank you for attempting a balanced view of available approaches for pain relief. This is no easy task, so forgive me if I poke little holes into that part where I have first-hand knowledge.
With regard to the Alexander Technique, as you say: "Research suggests that the Alexander technique can provide long-term relief for back pain". The most important research was published in the August 2008 issue of the British Medical Journal (BMJ) and is easily accessible on the BMJ site. As with any reasearch published by the BMJ, it's top quality research carried out by experienced medical reaerchers. As such, it produced solid high-quality medical evidence that the Alexander technique can provide long-term relief for back pain.
Your next paragraph then lumps everything you've surveyed together: "These hands-on therapies probably won???t replace pain relief medications but they could help manage chronic pain".
There are at least two ways in which this generalised statement does not do justice to the Alexander Technique:-
1. The Alexander Technique is not a therapy. It's rather a system of re-education that enables people who learn it to rid themselves of poor habitual movement patterns. It's precisely the Alexander Tecnique's effectiveness in this regard that makes it such a good option for people wanting to get rid of muscular pain.
2. While throwing out your pain relief medications can never be guaranteed, a very large proportion of people who learn the Alexander Technique do indeed find that they rarely need any further pain medication.
Many thanks,
Philip Pawley
We are pleased to let readers post comments about an article. Please increase the credibility of your post by including your full name and email.
All comments are reviewed by our editors before they are posted on the site. Just keep it clean, kids.