Nationwide minimally invasive surgery rates triple for pancreatic disease
Researchers at University of California, San Diego School of Medicine report a three-fold increase in the use of minimally invasive surgery (MIS) across the nation for patients with pancreatic disease. Although adaptation of MIS for this difficult-to-reach gland is recent, the growing trend points to improved patient outcomes, such as reduced bleeding and infections. Now published online, the paper will appear in the March print edition of JAMA Surgery.
"For the first time, we show a nationwide tripling of keyhole pancreatic surgery rates for benign and malignant pancreatic disease from 2.4 percent in 1998 to 7.3 percent in 2009. Both laparoscopic and robotic approaches for distal pancreas removal are associated with lower rates of inpatient complications and shorter hospital stays," said Jason Sicklick, MD, assistant professor of surgery, UC San Diego School of Medicine, and surgical oncologist at UC San Diego Health System. "Patients should know that select approaches for minimally invasive pancreatic operations are safe depending upon the lesion's size and location in the pancreas."
The pancreas is a large gland located deep in the abdomen, behind the stomach and next to the spleen. The gland produces digestive juices and hormones that regulate blood sugar. To a surgeon's hand, the pancreas has a soft consistency. Due to its fragility and location near major vascular structures, the pancreas has been one of the last organs to be part of the MIS trend.
Sicklick added that with increased surgeon experience performing complex pancreatic and hepatobiliary operations, the application of minimally invasive techniques has slowly diffused from academic hospitals to the community setting. However, it has yet to reach its maximum potential.
The retrospective study compared utilization trends between MIS and traditional open techniques for pancreatic cancer operations from 1998 to 2009. Researchers evaluated in-hospital mortality, complication rates, total charges and length of stay. MIS was associated with lower rates of pre-discharge complications, including lower incidences of post-operative infections and bleeding complications, as well as a shorter length of stay, by 1.22 days.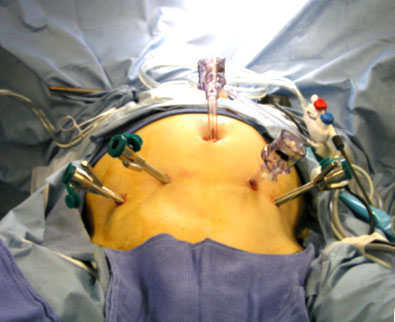 Compared to patients undergoing an open procedure, patients who underwent a MIS procedure were older and more likely to have undergone surgery at a teaching hospital. Surgery performed at a teaching institution was associated with better outcomes for nearly every analyzed parameter.
"This study demonstrates the need for ongoing population-level monitoring of novel surgical procedures, to make sure that they retain their safety and effectiveness profiles as they diffuse from top academic hospitals to the rest of the population," said co-author David C. Chang, PhD, MPH, director of Outcomes Research in the Department of Surgery at UCSD School of Medicine. "This is something that UC San Diego Health System is committed to doing on an ongoing basis."
Less is More in Pancreatic Surgery: Global Trend toward Minimally Invasive Approach
In the past, surgeons debated the value of early and aggressive pancreatic debridement in the setting of acute necrotizing pancreatitis. Aggressive, early debridement is no longer the standard of care because it has been shown to increase complications. If surgery can be delayed, there is a higher survival rate, and fewer operations are needed to get the disease under control. The current approach has been to delay surgery as long as possible in cases of acute necrotizing pancreatitis. As long as there are no signs of infected necrosis, such as air present in the retroperitoneum on CT scanning, or a positive culture of a fine needle aspirate of the necrotic tissue, a minimally invasive approach avoiding surgery is now the standard of care.
It has usually been considered necessary to perform open surgical debridement in the setting of acute necrotizing pancreatitis with infected necrosis because the debris is solid and cannot be removed with percutaneous drains. However, the minimally invasive approach to this disease has recently been further extended. Reports of success in delaying or even avoiding surgery in some cases with the use of percutaneous drains have begun to appear in the literature. Multiple large-bore drains are usually necessary. Apparently, this approach can temporarily help control the sepsis and allow a further delay in surgery to a time when the process is more mature and amenable to complete debridement in one operation. The presence of drain tracts has also allowed for a minimally invasive approach to pancreatic debridement using the "VARD procedure" (Video Assisted Retroperitoneal Debridement). With this technique, under general anesthesia, a guide wire is placed through the drain, the drain is removed, and the tract is progressively dilated. A nephroscope is used to visualize and debride via the drain track. A chest tube is left in the dilated track and the retroperitoneum can be irrigated in the postoperative period.
###
William E. Fisher
AccessMedicine from McGraw-Hill
Sicklick added that the minimally invasive surgery approach does not translate into lower total charges, possibly due to the increased expenses of longer operative times and costly surgical instruments used in these types of operations.
###
The benefits of minimally invasive surgery include:
Increased safety - with smaller incisions, there's less trauma to the body and far less blood loss
Decreased scarring - most incisions just take a stitch or two to close
Faster recovery - whereas recovery from traditional surgeries typically takes six to eight weeks, patients who have undergone minimally invasive procedures usually recover in only two
Decreased length of hospital stay - most MIS procedures are associated with a 23 hour discharge or scheduled outpatient surgery

Pancreas
Although there is concern about the effectiveness of laparoscopically removing pancreatic cancer, minimally invasive surgery can be used to safely and effectively remove benign or premalignant masses (masses that have the potential to become cancerous) from the pancreas. HPB-GI surgeons can use laparoscopy to remove portions of the neck, body or tail of the pancreas but not the head of the organ. However, enucleation – excision of a mass without removing any pancreatic tissue – can be performed laparoscopically in the head of the pancreas.
In selected patients, laparoscopic removal of masses or tumors in the head of the pancreas can be accomplished (through a laparoscopic "Whipple" procedure).
Hand-assisted laparoscopic surgery often is used for these pancreatic procedures.
Additional contributors to the paper included Hop S. Tran Cao, MD, Nicole Lopez, MD, Andrew M. Lowy, MD, Michael Bouvet, MD, Joel M. Baumgartner, MD, and Mark A. Talamini, MD, all at UCSD.
###
Jackie Carr
.(JavaScript must be enabled to view this email address)
619-543-6163
University of California - San Diego
Provided by ArmMed Media