Warning over fake obesity drug for sale online
The drug, Alli, which is available over the counter in Britain, was found not to contain orlistat which it should have done.
Instead it contained sibutramine, which was last week withdrawn from use by the European Medicines Agency, after early data showed it may increase the risk of heart attacks and stroke.
The websites selling the counterfeit Alli are based in America, however the UK Medicines and Healthcare products Regulatory Agency warned the counterfeit packets may be available to British patients online.
GlaxoSmithKline, makers of Alli, has been working with American regulators over the finding.
Mick Deats, MHRA Head of Enforcement said: "The trend of self-diagnosing and self-prescribing is potentially dangerous, but unless the website has a physical address clearly displayed, and the green cross logo of the Royal Pharmaceutical Society of Great Britain (RPSGB) then the likelihood of obtaining a counterfeit product is greatly increased.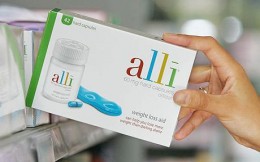 "Buying weight loss medication from unregulated websites is a dangerous way to slim down. You don't know what you're taking and your condition is not being monitored by a healthcare professional. It's just not worth taking that type of risk."
The counterfeit Alli can be distinguished from the genuine product by the absence of a lot code on the end flap of the outer packaging; a plain foil inner safety seal under the plastic cap, without any printed words – the authentic product seal is marked 'sealed for your protection' and the counterfeit capsules contain white powder instead of small white pellets.
In the UK, the legitimate product is not available in packs of 120, only in smaller packs of 42 and 84. Every authentic capsule is clearly marked 'Alli' in the licensed UK product and 'Orlistat' in the legitimate US product.
Counterfeit capsules are not marked at all.
A spokesman for GlaxoSmithKline said: "GlaxoSmithKline Consumer Healthcare in the US has identified a small quantity of fake weight loss product, falsely packaged and labelled as alli® sold on US online auction websites, such as eBay.com.
"GlaxoSmithKline fully supports the MHRA warning concerning purchasing medicines from unregistered websites. All retail pharmacies in Great Britain, including those providing internet services, must be registered with the Royal Pharmaceutical Society of Great Britain.
"Consumer should only buy alli online from safe and trusted registered pharmacy websites such as those of high street retailers. GSK does not condone illegal sales of alli from websites not authorised to make such sales and recommends that users check the authenticity of the online pharmacy they are looking to purchase alli from.
"Buying medicines from websites that are not connected to registered pharmacies can present a number of risks."
By Rebecca Smith, Medical Editor
Provided by ArmMed Media