E-cigarettes with nicotine need restrictions, American Heart Association declares
E-cigarettes that contain nicotine should be regulated as tobacco products, including under state smoke-free laws, the American Heart Association says.
The group issued new policy recommendations on Monday that recommend a U.S. ban on e-cigarettes for minors, strict laws on marketing and advertising the products and a ban on flavourings.
"They should be included in smoke-free laws," Dr. Elliott Antman, president of the American Heart Association, said in a video statement. "An important reason for this is it's not clear if the vapour from electronic cigarettes is safe. We do know that nicotine can have harmful effects not only on the user of an electronic cigarette, but also those who are exposed to high concentrations of nicotine in the vapours if they are in an enclosed space."
The group reviewed current evidence in areas such as regulation, design and operation of the devices, preventing youth access, advertising to youth, public health, safety, nicotine content, health effects, secondhand exposure and counselling for cessation.
The policy statement is published in the heart journal Circulation.
Health Canada says e-cigarettes with nicotine or e-cigarettes with a health claim are not authorized for sale in Canada.
The paper's authors say the sale of e-cigarettes is prohibited in Australia, Brazil, Mexico, Panama, Singapore and Switzerland and allowed in most others, including the United States.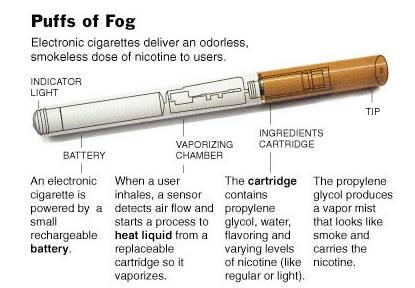 Aruni Bhatnagar, the paper's lead author and chair of cardiovascular medicine at the University of Louisville, said e-cigarettes have caused a major shift in the tobacco-control landscape.
Proponents of e-cigarettes say the products offer a public health benefit if individuals who smoke conventional cigarettes either switch or greatly cut back their cigarette smoking habit.
Millions Use Electronic Cigarettes
Invented by a Chinese pharmacist in 2003, electronic cigarettes are now used by millions worldwide as an alternative to smoking. But the devices are not regulated, and the World Health Organization has called for studies on their effects on human health.
In the new study, the researchers compared the heart function of 20 daily smokers before and after smoking one tobacco cigarette to that of 22 e-cigarette users before and after using the device for seven minutes. The people studied were healthy and varied in age from 25 to 45.
Heart function got worse in the tobacco smokers, and their blood pressure and heart rate rose. People using e-cigarettes experienced only a slight elevation in blood pressure.
American Heart Association spokesman Russell Luepker, MD, of the University of Minnesota in Minneapolis, says that because they "light up," electronic cigarettes may be preferred over other smoking cessation aids by some people trying to quit.
It's not surprising they are less harmful than the real thing, he says. "The e-cigarette has the advantage of not having the thousands of other chemicals, besides nicotine, that a real cigarette has," he says.
"I don't think it's conclusive but there's no doubt if you expose someone to fewer bioactive chemical compounds there is going to be less effect on the heart," Luepker says. But they should only be used as a temporary bridge while quitting smoking, he says.
The authors say the use of e-cigarettes could be problematic at a population level, such as if they fuel and promote nicotine addiction, particularly among children and their use re-normalizes smoking behaviour.
The group said it will continue to monitor the impact of the technology on population health, cardiovascular disease and stroke.
Smoking is the most preventable risk factor for cardiac and lung disease and is expected to cause 1 billion deaths during the 21st century. Electronic cigarettes have been marketed in recent years as a safer habit for smokers, with several millions of people already using them worldwide.
Electronic cigarettes simulate the effect of smoking by producing an inhaled vapor. The device consists of a battery, a cartridge containing liquid and a heating element which gets warm and evaporates the liquid. Laboratory analyses of the liquids show that they are less toxic than regular cigarettes. Most studies have found no nitrosamines, but even in studies where nitrosamines were found, the levels detected were 500-1400 times less than the amount present in one tobacco cigarette. This means that electronic cigarettes must be used daily for 4-12 months to get the amount of nitrosamines present in a single tobacco cigarette.
Since heart disease is the main cause of morbidity and mortality in smokers, with 40% of deaths in smokers due to coronary artery disease alone, the research team decided to perform the first clinical study of the acute effects of electronic cigarettes on cardiac function.
They decided to compare their results with the acute effects of regular cigarettes on cardiac function since electronic cigarettes are marketed to smokers only, as an alternative habit.
Previous studies from the research group and several others have shown that acute smoking inhalation produces significant defects in myocardial function. This indicates that subclinical dysfunction is already present in apparently healthy asymptomatic young people who smoke tobacco cigarettes. The goal was to evaluate whether these signs of preclinical disease appear in a similar population after using electronic cigarettes.
The researchers measured myocardial function in 20 healthy young daily smokers aged 25-45 years before and after smoking one tobacco cigarette and 22 daily electronic cigarette users of similar age before and after using the device for 7 minutes.
###
Contributors:
Konstantinos Farsalinos, MD1, Dimitris Tsiapras, MD1, Stamatis Kyrzopoulos, MD1, and Vassilis Voudris, MD
1 Onassis Cardiac Surgery Center, Athens, Greece
Authors: Dr Konstantinos Farsalinos (Greece), Onassis Cardiac Surgery Center

ESC Press Office
###
CBC News
Provided by ArmMed Media