Breast milk ingredient could prevent deadly intestinal problem in preemies
An ingredient that naturally occurs in breast milk might be used to prevent premature babies from developing a deadly intestinal condition that currently is largely incurable, according to researchers at the University of Pittsburgh School of Medicine and Children's Hospital of Pittsburgh of UPMC in this week's online early edition of the Proceedings of the National Academy of Sciences.
The story begins with a baby who is born too early, meaning before 36 weeks gestation, said senior author David Hackam, M.D., Ph.D., Watson Family Professor of Surgery, Pitt School of Medicine, and co-director of the Fetal Diagnosis and Treatment Center at Children's Hospital. Once stable, typically the baby is fed with formula because often breast milk is not readily available to premature infants.
"Within about 10 days of birth, the baby starts to vomit and a few hours later, the belly becomes distended and discolored," Dr. Hackam said. "It becomes clear that the child has developed a major problem in his or her tummy, and an X-Ray will usually confirm the diagnosis of necrotizing enterocolitis, or NEC, in which the intestinal tissue is dying. We have no choice but to remove the dead parts of the intestine, but despite surgery, half of these preemie babies still die from the condition."
Dr. Hackam and his team noted NEC occurs when the intestines start getting colonized with bacteria, a process that occurs normally after birth. They focused on toll-like receptor 4 (TLR4), an immune protein that is involved in recognizing microbes and which they recently discovered plays a role in gut development. In the current work, Hackam and colleagues found that TLR4 is present in higher amounts in the blood vessel lining in preemies than in full-term babies.
The study shows that unlike normal mice, those bred to lack TLR4 in their blood vessels did not develop NEC in a model designed to induce the condition. The findings indicate that bacteria in the blood activate TLR4 leading to a reduction in nitric oxide, which in turn narrows blood vessels and decreases blood flow, Dr. Hackam said.
"This pathway can be dangerous when the preemie's immature gut becomes inflamed from exposure to the bacteria normally present in the intestine," he said. "Abundant TLR4 triggers a shutdown of the blood supply to the intestine, leading to tissue death or necrosis."
Preemie Common Problems/Diseases
For many parents, the birth of their premature baby leaves them short on support, understanding and compassion from others. It can be an isolating, lonely time. Many parents find themselves depressed, angry, and frustrated, and left wondering if their lives will ever return to normal. Below you will find answers to many of your questions. Sometimes, just knowing more about what's going on provides you with a much needed foundation for maintaining your sanity. Some problems are so common you should expect your baby to have them, especially if s/he is more than four to six weeks early. These include: jaundice, apnea, and inability to nipple or breast feed.
Other problems are common, but may or may not occur in your baby. These include: anemia, low blood pressure, difficulty with sugar balance, respiratory distress syndrome (RDS), transient tachypnea of the newborn (TTNB), patent ductus arteriosus (PDA), retinopathy of prematurity (ROP), reflux, hernias, and infection.
Less common, but very important problems include: air leak (includes Pneumothorax, Pneumomediastinum and Pulmonary Interstitial Emphysema), necrotizing enterocolitis (NEC), bronchopulmonary dysplasia (BPD), intraventricular hemorrhage (IVH) and periventricular leukomalacia (PVL).
Jaundice is the yellow color to the skin that is often seen in the first few days after birth. The yellow color is due to bilirubin. It is produced when red blood cells get old and are broken down by the body. Normally it is processed in the liver and then deposited in the intestine so it can come out in the stool.
The red blood cells of babies have shorter lives than adult red blood cells; bruising at birth may cause a larger number of red cells to be broken down. All of the bilirubin from these cells needs to be processed by the baby's liver.
Premature babies do not have fully developed organs. Their livers cannot process bilirubin rapidly. Their intestines may not move much in the first few days especially if they are sick and not being fed.
Small or moderate increases in bilirubin are not harmful. Extremely high levels of bilirubin can be harmful, causing brain damage. A baby's bilirubin will be measured if s/he becomes jaundiced to be sure that s/he does not come close to having harmful levels.
Jaundice varies greatly from baby to baby. Bilirubin levels increase over the first several days and then fall slowly. Babies receiving breast milk may remain yellow longer than those receiving formula, but usually these low levels are not harmful.
However, if a baby's bilirubin gets close to harmful levels, the doctor can do an EXCHANGE TRANSFUSION, a procedure where the baby's blood containing the bilirubin is replaced with blood from the blood bank. Also, this can be done if a baby's mother has made antibodies against the baby's blood and the antibodies are destroying the baby's red blood cells. This is uncommon in premature infants.
If the level of bilirubin is high enough to need treatment, it is usually treated with PHOTOTHERAPY. This means the undressed baby is placed under special lights. The lights may be white, blue, or green. Or, the baby can be placed on a light producing blanket. The light helps break down the bilirubin in the skin. It may cause the baby to have runny stools.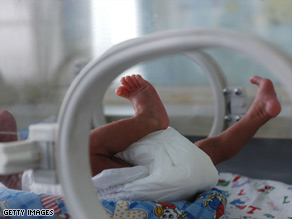 Premature babies who are nursed rather than formula-fed are more likely to survive NEC, so co-author and nitric oxide expert Mark Gladwin, M.D., chief, Division of Pulmonary Allergy and Critical Care Medicine, Pitt School of Medicine, and director of Pitt's Vascular Medicine Institute, and the team took a closer look at the components of breast milk.
They found that breast milk contains high levels of sodium nitrate, which is converted to nitrite by gut bacteria. Nitrite can be directly converted to the vasodilator nitric oxide, which can both protect the intestinal lining and improve blood flow.
Necrotizing enterocolitis (NEC). Some premature babies develop this potentially dangerous intestinal problem (usually 2 to 3 weeks after birth), which leads to feeding difficulties, abdominal swelling and other complications. It is believed that the bowel may become damaged when its blood supply is decreased, and bacteria that are normally present in the bowel invade the damaged area, causing more damage. When tests (including X-rays and blood tests) show that a baby has NEC, he will be given antibiotics and fed intravenously while his bowel heals. In some cases, surgery is necessary to remove damaged sections of the intestine.
"The additional nitrite appears to overcome the effects of TLR4 activation and corrects the blood flow problem," Dr. Gladwin said. "When we gave formula supplemented with a sodium nitrate and nitrite analog to the premature mice, we saw improved blood flow in the intestine, and NEC did not develop."
Drs. Hackam and Gladwin are testing the compound, which is FDA approved for other uses, in other models of NEC with the hope that it could be routinely added to formula fed to premature infants to prevent NEC.
"This condition is frightening for parents and frustrating for doctors because currently there is little we can do to treat it," said Dr. Hackam, a pediatric surgeon. "I look forward to one day putting myself out of business and having a therapy that truly saves these children."
###
Co-authors of the paper include researchers from the divisions of Pediatric Surgery, Newborn Medicine, and Pathology at Children's Hospital; the Division of Gastroenterology and the departments of Pediatrics, Pathology, and Surgery at Pitt School of Medicine.
The project was funded by National Institutes of Health grants GM078238, DK08752, GM053789, HL098032, HL096973 and HL103455; the Hartwell Foundation; the Institute for Transfusion Medicine; and the Hemophilia Center of Western Pennsylvania. Dr. Gladwin holds a patent for the use of nitrite salts in cardiovascular diseases and consults with Aires Pharmaceuticals.
About Children's Hospital of Pittsburgh of UPMC
Renowned for its outstanding clinical services, research programs and medical education, Children's Hospital of Pittsburgh of UPMC has helped establish the standards of excellence in pediatric care. From ambulatory care to transplantation and cardiac care, talented and committed pediatric experts care for infants, children and adolescents who make more than 1 million visits to Children's and its many neighborhood locations each year. Children's also has been named consistently to several elite lists of pediatric health care facilities, including ranking 7th among children's hospitals and schools of medicine (FY 2011) in funding provided by the National Institutes of Health, and is one of 12 pediatric hospitals in the United States named to U.S. News & World Report's Honor Roll of America's "Best Children's Hospitals" for 2012.
About the University of Pittsburgh School of Medicine
As one of the nation's leading academic centers for biomedical research, the University of Pittsburgh School of Medicine integrates advanced technology with basic science across a broad range of disciplines in a continuous quest to harness the power of new knowledge and improve the human condition. Driven mainly by the School of Medicine and its affiliates, Pitt has ranked among the top 10 recipients of funding from the National Institutes of Health since 1998. In rankings recently released by the National Science Foundation, Pitt ranked fifth among all American universities in total federal science and engineering research and development support.
Likewise, the School of Medicine is equally committed to advancing the quality and strength of its medical and graduate education programs, for which it is recognized as an innovative leader, and to training highly skilled, compassionate clinicians and creative scientists well-equipped to engage in world-class research. The School of Medicine is the academic partner of UPMC, which has collaborated with the University to raise the standard of medical excellence in Pittsburgh and to position health care as a driving force behind the region's economy.
####
Andrea Kunicky
Phone: 412-692-6254
E-mail: .(JavaScript must be enabled to view this email address)
Provided by ArmMed Media