Five babies at suburban Chicago daycare center have measles
Five babies at a suburban Chicago daycare center have been diagnosed with measles, adding to a growing outbreak of the disease across the United States, Illinois health officials said on Thursday.
Officials are investigating the cluster of measles cases at KinderCare Learning Center in Palatine, said a statement from the Illinois and Cook County health departments. All the children are under 1 year old and would not have been subject to routine measles vaccination, which begins at 12 months.
The source of the infection was not immediately known.
Public health officials have reported that more than 100 people across the United States have been infected with measles, many of them traced to an outbreak that began at the Disneyland theme park in Anaheim, California, in December.
"These cases underscore the need for everyone who is eligible for the vaccine to ensure that they have been vaccinated," Dr. Nirav Shah, director of the Illinois Department of Public Health, said in a statement. "There are certain individuals who, because of their age or clinical condition, cannot be vaccinated."
One adult in Illinois was recently diagnosed with measles. The diagnoses for the adult and two of the babies have been confirmed through laboratory testing, health officials said.
Is my baby at risk of getting measles?
It's rare for babies and children in the UK to get measles. This is because so many children are protected against measles by the measles, mumps and rubella (MMR) vaccine.
If your baby hasn't had the MMR vaccine, he does have a small chance of catching this nasty viral illness. Measles outbreaks still occur in areas of the UK where take-up of the MMR has been low, so it's important to immunise your baby.
How might my baby catch measles?
Measles is caused by the rubeola virus. When someone who has the virus sneezes or coughs, tiny droplets containing the virus spray into the air. The droplets stay active for two hours in the air, or on a surface. If your baby comes into contact with these droplets, he can become infected. He can also catch measles from having contact with the skin of someone who has the virus.
Being in the same room for at least 15 minutes as someone who has measles, or having face-to-face contact with them, is enough to expose your baby to the virus.
If your baby hasn't been immunised, and hasn't had measles before, he is likely to catch it if he is exposed to it. Nine out of 10 children in these circumstances catch measles.
Once your baby has caught the measles virus, it can take about 10 days for him to show any symptoms. If you know that your baby has been exposed to the measles virus, he can be treated to prevent it from developing. You will need to take him to the doctor within three days of him being exposed to it.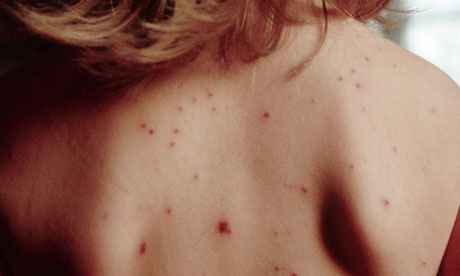 Test results for the other three cases are still pending, but they have been diagnosed based on clinical and epidemiological criteria, officials said.
On the advice of health officials, the KinderCare center is excluding until Feb. 24 unvaccinated children and staff who may have been exposed to the virus, according to a statement from Knowledge Universe, KinderCare's parent company. The center was given a "deep clean" on Wednesday night, the statement said.
Measles is a highly contagious respiratory disease that causes fever, red and sore eyes, runny nose, cough and a rash. It can be fatal in some cases.
Measles was declared eliminated in the United States in 2000 after decades of intensive childhood vaccine efforts.
The measles outbreak has renewed a debate over the so-called anti-vaccination movement in which fears about potential side effects of vaccines, fueled by now-debunked research suggesting a link to autism, have led a minority of parents to not have their children inoculated.
Last year, the United States had 644 cases from 27 states, the most since 2000, according to the U.S. Centers for Disease Control and Prevention.
###

By Mary Wisniewski
Provided by ArmMed Media