You are here : health.am > Health Centers > Ear / Nose / Throat
Ear / Nose / Throat
A new treatment has been developed for sudden sensorineural hearing loss (SSHL), a condition that causes deafness in 40,000 Americans each year, usually in…

Among the findings of an analysis of previous studies regarding ear infections in children are that results from otoscopic exams (an instrument for examining…

Racial and ethnic disparities among children with frequent ear infections (FEI) significantly influence access to affordable healthcare, according to new research published in the…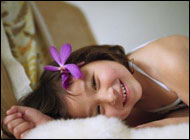 Ear infections are one of the most common health problems for children, with most kids experiencing at least one by their third birthday. Annual…

Screening for hearing problems within the first weeks of life benefits children, especially when interventions quickly follow the detection of any impairments, suggests a…

Children with permanent hearing impairment who received hearing screening as newborns had better general and language developmental outcomes and quality of life at ages…

Older adults with moderate kidney disease may require screening for hearing loss, according to the authors of a new study.
In the study, of…

Facial pain. Nasal congestion. Postnasal drip. Fatigue. These are hallmark signs of chronic sinusitis, a swelling of tissue in the nasal and sinus cavity.…

The 2010 Annual Meeting & OTO EXPO of the American Academy of Otolaryngology – Head and Neck Surgery Foundation (AAO-HNSF), the largest meeting…

Homeopathic zinc nasal sprays don't fight colds, and they probably cause some people to lose their sense of smell, the authors of a new…

Use of ear bud headphones by youngsters may save your ears from being assaulted by the noise of your teenagers' music or electronic game…

A newer surgical technique for removing tonsil tissue may have a lower rate of complications than two other commonly used approaches, a new…

A small study suggests that a surgical treatment generally used on patients with tumors and certain brain disorders may put a stop to nosebleeds…

Research by a University of Alabama at Birmingham (UAB) professor shows an association between hearing loss and the use of the erectile dysfunction drug…

Hearing loss in one ear is enough to cause language problems for kids, doctors reported on Monday.
However, they write in the journal Pediatrics,…

By the time they reach school age, one in 20 children have hearing loss in one ear. That can raise significant hurdles for these…

A multi-center study led by a researcher at Rhode Island Hospital has determined that long-term elder care, HIV-infected and hemodialysis patients are at…

Other people's cigarette smoke could be to blame for much of the chronic itchy, runny nose and sinus woes - also known as rhinosinusitis…

From the first tip-off during March Madness to the championship's final buzzer, and with start of the 2010 Major League Baseball season, on Sunday,…

In a study published in the March 2010 issue of The American Journal of Medicine, researchers determined that regular use of aspirin, acetaminophen and…

If you suffer from ringing in the ears, imbibing caffeine won't make it worse, and giving up caffeinated beverages won't make it better,…

Age-related hearing loss is the most common sensory disorder among the elderly. But scientists are still trying to figure out what cellular processes govern…

Obesity in children significantly increases the risk of major and minor respiratory complications following surgery to correct sleep disordered breathing (SDB), according to new…

Patients who exhibited a certain genetic mutation of anti-oxidant enzymes are three times more likely to develop age-related hearing loss (ARHL), according to new…

In children with sleep-related breathing disorders, removing the tonsils and adenoids - an operation called adenotonsillectomy - is apt to yield long-lasting improvements…