You are here : health.am > Health Centers > Alternative Medicine
Alternative Medicine
The effects of acute acupuncture applied during exercise on performance factors such as power and blood pressure and on the body's ability to recover…

A new study review published by the University of Kentucky found that music therapy can be beneficial to patients before, during and after a…

Acupuncture may help relieve fatigue in women who've had breast cancer, a new UK study suggests.
Researchers found that women who attended six weekly…

Six months ago, researchers at UCLA published a study that showed using a specific type of yoga to engage in a brief, simple daily…

Three months of acupuncture improved breathing problems in people with chronic lung disease, in a new study from Japan.
According to one researcher, the…

Paddle boarding, an ancient form of surfing, is gaining popularity as a high-intensity, low-impact platform for group fitness classes from calisthenics to yoga.
Experts…

Just cleared airport security and in need of a little deep breathing and stretching relaxation?
San Francisco Airport has opened what it calls a…

Acupuncture may help some women conceive through in-vitro fertilization (IVF), a new analysis of past research concludes. But the true benefit in the real…

– Tuning in to tune out may be just what's needed for men undergoing a prostate biopsy, according to researchers at the Duke Cancer…

UCLA researchers have identified how a component of an ancient Chinese herbal anti-hangover medicine called dihydromyricetin, isolated from the plant Hovenia, counteracts acute alcohol…

Can the right sonata soothe the pain of a medical operation?
A growing number of doctors have been using music in clinical settings, believing…

Acupuncture treatment appears to be safe for those who are under 18, with very little risk involved when qualified practitioners are wielding the needles,…

In a new UK study of adults with chronic lower back pain, a 12-week yoga class led to a small improvement in how well…

Physicians who listen to Mozart while performing colonoscopy may increase their detection rates of precancerous polyps, according to the results of a new study…

Hotel chains are delivering everything from yoga videos to recumbent bicycles to guests who prefer to work out their jet lag, or shape up…

Acai berry, cumin, herbal tea, turmeric and long-term use of garlic – all herbal supplements commonly believed to be beneficial to your health –…

A new study by York University researchers finds that practicing yoga reduces the physical and psychological symptoms of chronic pain in women with fibromyalgia.
…

A new study shows massage therapy may help people who suffer from chronic back pain.
After 10 weeks, patients who got weekly massage sessions…

An Indiana University study that exposed older veterans with stroke to yoga produced "exciting" results as researchers explore whether this popular mind-body practice can…

Attending frequently with medically unexplained symptoms is distressing for both patient and doctor and effective treatment or management options are limited: one in five…

University of Granada researchers have proven that music therapy combined with other relax techniques based on guided imagery reduces significantly pain, depression and anxiety,…

Cancer treatments often have the side effect of impairing the patient's immune system. This can result in life-threatening secondary infections from bacteria and fungi,…

A traditional Chinese herbal paste known as Xiao Chuan, or XCP, may help reduce winter exacerbations of chronic obstructive pulmonary disease (COPD), according to…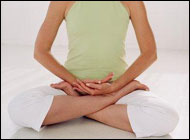 More than a third of Americans use some form of complementary and alternative medicine (CAM) and that number continues to rise attributed mostly to…

Simulated acupuncture - sometimes referred to as placebo - is just as beneficial as real acupuncture for treating nausea in cancer patients undergoing radiotherapy,…