You are here : health.am > Health Centers > Allergies
Allergies
An international team of researchers has found that a once-a-month, high-dose injection of a commonly used asthma drug is highly effective in treating teens…

A study published in the Journal of the Academy of Nutrition and Dietetics has determined that there is increasing evidence of a connection between…

Acupuncture may help improve seasonal allergy symptoms in some people with runny noses and watery eyes, according to a new study - but the…

Peanuts are one of the most common triggers of severe food-induced allergic reactions, which can be fatal, and the prevalence of peanut allergy is…

Kids who have food allergies or are overweight may be especially likely to get bullied by their peers, two new studies suggest.
Not surprisingly,…

Nearly a third of children diagnosed with food allergies who participated in a recent study are bullied, according to researchers at the Icahn School…

Leipzig. Environmental contaminants, such as smoking, are harmful to the human organism in relation to the occurrence of allergies. This is known. Until now,…

More than 15% of children suffer with eczema, or atopic dermatitis, an inflammatory skin disease that in some cases can be debilitating and disfiguring.…

More can be done to properly manage the care of American children with food allergies, especially when it comes to diagnostic testing and…

According to the U.S. National Library of Medicine, some countries, like China, have a lower incidence of peanut allergy than the United States. In…

Can allergies increase your risk of cancer? A new study out of University of Washington Fred Hutchinson Cancer Research Center suggests this may be…

Financial strain and competing priorities at home may contribute to greater number of hospital readmissions of children with asthma from single-parent homes compared to…

Thanksgiving is about family, food and travel. And for the millions of Americans with allergies or asthma, it's about navigating a minefield of triggers,…

In a new study of two-year-olds in Boston, black kids were twice as likely as white kids to have an immune response to foods…

The Food and Drug Administration warned on Thursday that serious allergic reactions have been reported with the use of Merck & Co Inc's antipsychotic…

It can be hard to tell if a case of hives or an upset stomach is a sign of a food allergy because so…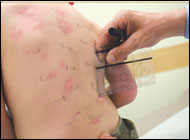 Some children can enjoy a peanut butter and jelly sandwich every day. Others cannot even be in the same room with a peanut butter…

Chicago…A national study of food allergies in the US, the largest of its kind, finds that more children have food allergies than previously reported.
…

Doctor visits, hospital care, and lost work days due to food allergies come with an annual $500 million price tag, according to a new…

Children with egg allergies may be able to safely get their flu shot in one dose, just like other kids, a new study suggests.
…

A study of more than 3,000 children shows that low vitamin D levels are associated with increased likelihood that children will develop allergies, according…

Exposure to worm infections in the womb may protect a newborn infant from developing eczema, a study funded by the Wellcome Trust suggests. A…

Researchers have proved that a single "master switch" enzyme, known as aldose reductase, is key in producing excess mucous that clogs the airways of…

What you eat might affect your risk of developing allergies or asthma, and possibly that of your kids, hints a new review of the…

Food allergies may send more Americans to emergency rooms each year than commonly believed, a new study suggests.
Between 2001 and 2005, researchers estimate…