2013 ESH/ESC Guidelines for the management of arterial hypertension
Lifestyle factors, lack of awareness by both patients and physicians, hesitancy in initiating and intensifying drug treatment, and healthcare structural deficiencies are amongst the reasons for the increasing problem of high blood pressure in Europe, according to new joint Guidelines issued today by the European Society of Hypertension (ESH) and the European Society of Cardiology (ESC). The Guidelines, which recommend several significant changes to hypertension treatment, are launched* today at the European Society of Hypertension congress in Milan, Italy, with simultaneous online publication in the peer-reviewed journals Journal of Hypertension, the European Heart Journal, and Blood Pressure .
First produced in 2003, the original version of the joint ESH/ESC Guidelines for the management of arterial hypertension, became one of the most highly-cited medical papers in the world. The 2013 Guidelines - which replace the 2007 edition - give state of the science recommendations which show how the hypertension landscape has changed, and indicate what needs to be done to reduce mortality and morbidity from high blood pressure and associated conditions.
Hypertension has been described as "the leading global risk for mortality in the world". It continues to affect between 30 and 45% of the European population. The authors of the Guidelines express disappointment that this figure has remained high since the 2003 edition. "We really need to raise awareness of the condition", said Professor Giuseppe Mancia (Milan, Italy). This is a condition that can be controlled if treated properly."
According to the report, "lifestyle changes are the cornerstone for the prevention of hypertension", including reduction of salt (to roughly half present levels) and alcohol, as well as maintaining a healthy body weight, regular exercise, and the elimination of smoking.
Additionally, patients and doctors must be aware that once hypertension has developed, it can be treated with drug therapy. The Guidelines highlight the lack of awareness of the potential problems of hypertension amongst patients, with poor long-term adherence to treatment, and the "inertia" of doctors, who don't take appropriate action when confronted with patients with uncontrolled blood pressure.
The authors state that "despite overwhelming evidence that hypertension is a major cardiovascular risk, studies show that many are still unaware of the condition, that target blood pressure levels are seldom achieved". They also note that there are wide variations in hypertension care in Europe, but that team-based care, with greater nurse involvement, has a better record of success that more standard care.
The 2013 Task Force reviewed all relevant data since the last revision (in 2007), with 18 specific diagnostic and therapeutic areas identified as containing significant change.
A major development is the decision to recommend a single systolic blood pressure target of 140 mmHg for almost all patients. This contrasts with the 2007 version which recommended a 140/90 mmHg target for moderate to low risk patients, and 130/80 mmHg target for high risk patients. "There was not enough evidence to justify two targets" said Professor Robert Fagard (Leuven, Belgium).
Diabetes and hypertension, along with dyslipidemia and smoking, acting separately or combined, are the main risk factors of atherosclerotic cardiovascular disease that is responsible for the death of most adults.
The aggravating role of hypertension associated with diabetes is supported by numerous studies, especially by the results of United Kingdom Prospective Diabetes Study (UKPDS), which showed that BP reduction has a favorable impact on the evolution and complications of diabetes, equivalent to that of an optimal glycemic control.
These are only two arguments that support the need for serious addressing, assessing and treatment of the two pathological conditions (diabetes and hypertension) whose association concerns approximately 50% of the patients with type 2 diabetes.
Hypertension is the most important co-existing risk factor for death at a young age of patients with type 2 diabetes. Almost 75% of cardiovascular complications in patients with diabetes can also be attributed to hypertension. The presence of diabetes in a hypertensive patient involves his inclusion in a high-risk or very-high-risk group independently of BP values, the target organ damage and the presence of other risk factors or other cardiovascular diseases.
UKPDS showed that the presence of hypertension is a risk factor for microalbuminuria and retinopathy and that reducing the incidence of chronic complications was significantly associated with the amplitude of systolic BP (Blood Presure) decrease, the lowest risk corresponds to a systolic BP below 120 mmHg.
Reduction of elevated BP in patients with diabetes and hypertension is mandatory, as it turned out that this decrease is beneficial for reducing the frequency of diabetes-related complications, cardiovascular events and mortality.
Management of hypertension is essential for minimizing the decline rate of eGFR (Glomerular Filtration Rate) because virtually all patients with CKD (Chronic Kidney Disease) have hypertension and prospective studies have shown that the association hyperglycemia-hypertension (bad companions") is the most unfavorable risk constellation for the development of ESRD (End Stage Renal Disease), as well as for the cardiovascular morbidity/mortality. The therapeutic target for BP in patients with diabetes and DKD (Diabetic Kidney Disease) is 130/80 mmHg (lower than in the general population).
CKD can be found in up to 23-25% of patients with Diabetes Mellitus (DM). DM is the primary cause of kidney failure, and the diabetic patients represent 45% of those who receive dialysis therapy.
Other changes include:
An increasing role for home blood pressure monitoring, alongside ambulatory blood pressure monitoring
A greater emphasis on assessing the totality of risk factors for cardiovascular and other diseases. For example, most people with hypertension also have additional risk factors such as organ damage, diabetes, and other cardiovascular risk factors. These need to be considered together before initiating treatment, and during the follow-up
Special emphasis on specific groups, e.g. diabetics, the young, the elderly, and drug treatment of the over 80s. Women are also considered separately, e.g. during pregnancy. Special consideration is given to new treatments such as renal denervation for resistant hypertension – which is described as "promising", although more trials are called for
New guidance on how and when to take anti-hypertensive drugs. The report indicated no treatment for high normal blood pressure, no specific preference for single drug therapy, and an updated protocol for drugs taken in combination. The guidance takes a liberal attitude to choice of first step drugs, noting the evidence that the beneficial effect of hypertension depends largely on blood pressure lowering. Rather than presenting a hierarchy of drugs (a generic 1st, 2nd, 3rd choice and so on), the approach taken promotes individualized treatment, i.e. to help physicians to decide which drugs to give in which clinical/demographic condition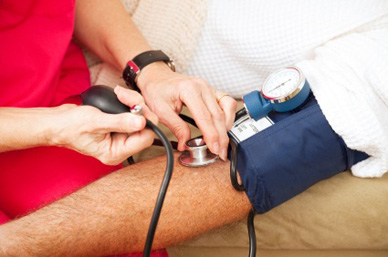 The Guideline was developed over an 18 month period. Task Force members from both societies met several times to finalise the content, which was reviewed twice by a group of 40 European reviewers in addition to the internal reviewers. Both the ESC and the ESH appointed Task Force Chairs, who worked together to coordinate the Guideline development. For the first time, the Guidelines have graded the evidence according to class of the recommendation and the level of evidence. The final document will be simultaneously published in the peer-reviewed journals Journal of Hypertension, Blood Pressure and European Heart Journal
Commenting, Professor Giuseppe Mancia, Co-Chairperson of the Guidelines Task Force said:
"This is certainly the most important current overview to consider the totality of hypertension treatment; it will form the basis of hypertension care for the foreseeable future. The WHO has already recognised hypertension as the leading global risk for mortality in the world, and as we identified in the document, the public needs to be more aware of just how common hypertension is. Not only that, doctors and patients need to recognise that we have good treatments which can control hypertension".

Professor Robert Fagard, Co-Chairperson of the Guidelines Task Force commented
"We are very happy to publish these comprehensive evidence-based Guidelines. It's the right time to carry out this revision, as we are able to include many significant studies and many new results since the previous version. We have included many of the gold standard randomized controlled trials (RCT) studies, but at the same time we have graded all the evidence so that clinicians can see how strong the evidence base is for each recommendation. The important thing now is for physicians put these recommendations into use".
Non-pharmaceutical principles of treatment of arterial hypertension:
Smoking cessation.
Control of body weight.
Restriction of alcohol consumption.
Restriction of salt consumption.
Adequate amount of potassium, magnesium and calcium in food.
Reduced consumption of saturated fats and cholesterol.
Regular physical exercises.

In case of obesity all measures of non-pharmaceutical treatment of arterial hypertension are very important helping to control body weight. Some studies indicate that even a small weight decrease by 5 - 10% can significantly reduce the risk of heart diseases, lipids and glucose amount in blood, obtain better control of arterial blood pressure. Data of specific studies shows that body weight decrease by one kilogram causes decrease of arterial blood pressure by 1.6 - 1.3 mm Hg. In these days obesity is interpreted as a chronic state requiring long-term treatment.
Therefore, a recommendation is made to develop an individual treatment plan for each specific patient, the plan precisely indicating the measures of non-pharmaceutical treatment of arterial hypertension, its implementation scope and speed. Only successive body weight reduction which is well chosen considering the patient's clinical state can produce good long-term results of arterial hypertension treatment. Short-term obesity treatment is recommended only in order to mitigate the risk before surgical interventions.
Observation data of several long-term studies show that a part of patients fail to maintain the reached body weight in spite of keeping to further recommendations. The reason for that is a considerable release of proteins from fat cells which stimulate the satiety center in brain. These patients need pharmaceutical treatment of obesity. If body weight index is over 27 - 30 or several risk factors are available or secondary preventive measures of some sicknesses are being applied, the recommended amount of salt is up to 6 g. per day, including the salt incoming with already made food products.
###
Jacqueline Partarrieu
.(JavaScript must be enabled to view this email address)
33-492-947-756
European Society of Cardiology
Provided by ArmMed Media