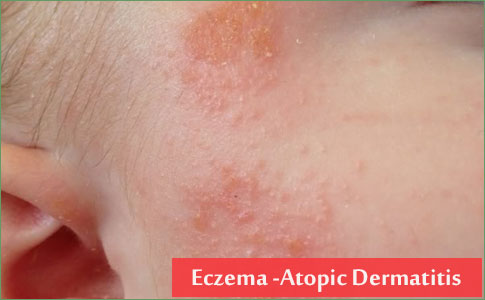 Atopic dermatitis (AD) is a common chronic skin disease. It is also called atopic eczema. Atopic is a term used to describe allergic conditions such as asthma and hay fever. Both dermatitis and eczema mean inflammation of the skin.
When your body comes in contact with something that could make you ill, your immune system promotes chemical changes to help your body ward off disease. You are exposed to thousands of substances each day, and most will not cause your immune system to react. However, you may come into contact with substances that are not typically harmful to the body but cause your immune system to overreact nonetheless. These substances are known as allergens, and this overreaction is known as an allergy.
An allergic reaction can take a number of forms. For some people, breathing becomes difficult, they cough, and they experience burning eyes and a runny nose. Other allergic reactions cause changes in the skin. Allergic eczema is an itchy skin rash that develops when you come into contact with an allergen. The condition often occurs hours after you have been exposed to the substance that causes the allergic reaction.
People with atopic dermatitis tend to have dry, itchy and easily irritated skin. They may have times when their skin is clear and other times when they have a rash.
Atopic dermatitis usually begins and ends during childhood, but some people continue to have the disease into adulthood. If you ever had atopic dermatitis, you may have trouble with one or more of these:
Dry, sensitive skin
Hand dermatitis
Skin infections
The disease can have a significant impact on the quality of life of individuals and their families. The itching can interfere with daily activities and make it hard to sleep. Scratching the rash can irritate the skin, making it itch even more, which, in turn, increases the tendency to scratch. This itch-scratch cycle can leave the skin open to infections.
Allergic eczema is also known as:
allergic dermatitis
contact dermatitis
allergic contact dermatitis
contact eczema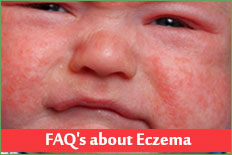 Eczema (atopic dermatitis) is a chronic, recurring inflammatory skin disease ..



Causes
Doctors don't know exactly what causes eczema. The most common type of eczema - atopic dermatitis - resembles an allergy. But the skin irritation, which is more often seen in children rather than adults, is not an allergic reaction.atopic dermatitus
The current thinking is that eczema is caused by a combination of factors that include:
Genetics
Abnormal function of the immune system
Environment
Activities that may cause skin to be more sensitive
Defects in the skin barrier that allow moisture out and germs in
What We Know About the Causes of Eczema
Here's more detail on what's known about eczema causes:
Eczema is not contagious. You or your children can't catch eczema by coming in contact with someone who has it.
Eczema runs in families. That suggests a genetic role in eczema's development. A major risk factor is having relatives who have or had:
Eczema
Asthma
Seasonal allergies such as hay fever
Doctors also know that a large percentage of children with severe eczema will later develop asthma or other allergies.
Mother's age at time of birth. It's isn't clear why, but children born to older women are more likely to develop eczema than children born to younger women.
Role of environment. Children are more likely to develop eczema if they:
Are in higher social classes
Live in urban areas with higher levels of pollution
Live in colder climates
Eczema is not an allergic reaction. Even so, a large number of children who have eczema also have food allergies. That doesn't mean that certain foods such as dairy, eggs, and nuts - common food allergy triggers in children with eczema - cause it or make it worse. Before removing particular foods from your child's diet, talk with your health care provider to be sure your child's nutritional needs will be met.
The Role of Triggers in Eczema
A trigger is not something that causes eczema. But it can cause it to flare or make a flare worse.
The most common triggers are substances that irritate the skin. For instance, in many people with eczema, wool or man-made fibers that come in contact with the skin can trigger a flare.
Signs of Allergic Eczema
The symptoms of allergic eczema will be different for each person. They may also change over time. Symptoms typically develop on the skin where contact with the allergen has occurred. In rare cases, symptoms may spread to other areas of the skin.
Common symptoms include:
itching of the skin
a burning sensation or pain on the skin
red bumps on the skin that may ooze (weep), drain, or crust
warm, tender skin
skin that becomes scaly, raw, or thickened
skin that becomes dry, red, or rough
inflammation of the skin
cuts (fissures) in the skin
skin rash
Types of eczema
There are at least 11 different types of skin conditions that produce eczema. In order to develop a rational treatment plan, it is important to distinguish them. This is often not easy.
Atopic dermatitis: This condition has a genetic basis and is probably most commonly called eczema. Atopic dermatitis tends to begin early in life in those with a predisposition to inhalant allergies, but it probably does not have an allergic basis. Characteristically, rashes occur on the cheeks, neck, elbow and knee creases, and ankles. Rarely, a few those with atopic dermatitis can get an extensive herpes simplex infection called "eczema herpeticum."
Irritant dermatitis: This occurs when the skin is repeatedly exposed to toxic substances.
Allergic contact dermatitis: After repeated exposures to the same substance, the body's immune recognition system becomes activated at the site of the next exposure and produces eczema.
Stasis dermatitis: It commonly occurs on the swollen lower legs of people who have poor circulation in the veins of the legs.
Fungal infections: This can produce a pattern identical to many other types of eczema, but the fungus can be visualized with a scraping under the microscope or grown in culture.
Scabies: It's caused by an infestation by the human itch mite and may produce a rash very similar to other forms of eczema.
Pompholyx (dyshidrotic eczema): This is a common but poorly understood condition which classically affects the hands and occasionally the feet by producing an itchy rash composed of tiny blisters (vesicles) on the sides of the fingers or toes and palms or soles.
Lichen simplex chronicus: It produces thickened plaques of skin commonly found on the shins and neck.
Nummular eczema: This is a nonspecific term for coin-shaped plaques of scaling skin most often on the lower legs of older individuals.
Xerotic (dry skin) eczema: When the skin becomes pathologically dry, it will crack and ooze.
Seborrheic eczema: It produces a rash on the scalp, face, ears, and occasionally the mid-chest in adults. In infants, in can produce a weepy, oozy rash behind the ears and can be quite extensive, involving the entire body.
Diagnosis
If you have symptoms of this disorder, your doctor will examine your skin. Although your doctor may be able to diagnose an allergic reaction, he or she may need to do further testing to determine exactly what you are allergic to. Typically an epicutaneous (on surface of the skin) or patch test will be required.
Patch Test
During this test, patches that contain common allergens are placed on your back. These patches remain in place for 48 hours. When your doctor removes the patches, he or she will check for signs of an allergic reaction. Your doctor will check your skin again in two more days to see if there is a delayed allergic reaction.
Biopsy
If your doctor is not able to make a diagnosis based on the patch test, other tests may be needed. Your doctor may perform a skin lesion biopsy (taking a sample of your skin for laboratory testing) to make sure that your skin condition is not due to another health problem.
Eczema facts
Eczema is not a single disease but a reaction pattern of the skin produced by a number conditions.
Atopic dermatitis, a common causes of eczema, is more prevalent in those with asthma and hay fever.
Eczema appears as small blisters that can weep and ooze, or as crusted, thickened plaques of skin. It is almost always quite itchy.
It is important to distinguish the different kinds of eczema because effective treatments often differ.
If eczema is produced by skin exposure to a specific substance, it can be helpful to avoid it.
Keeping the skin healthy and moisturized can prevent many kinds of eczema.
Treatment
Treatment for allergic eczema depends on the severity of your symptoms. In all cases, it is important to wash the affected skin with plenty of water to remove traces of the allergen.
If your symptoms are mild and do not bother you, no further treatment may be needed. You may wish to use a moisturizing cream to keep the skin hydrated and to repair damage. Over-the-counter corticosteroid creams can help with itching and inflammation.
Does diet affect eczema?
The role of diet in atopic dermatitis is controversial. There is little compelling evidence that diet plays a significant role for majority of people who have eczema, no matter which type they have.
Is there a cure for eczema?
Each type of eczema requires a specific sort of therapy. The easiest eczemas to cure permanently are those caused by fungi and scabies. Allergic contact eczema can be cured if a specific allergenic substance can be identified and avoided.
Is eczema contagious?
Eczema caused by fungi and scabies is transmissible to others. None of the other types of eczema are contagious.
What is the prognosis of eczema?
Most of the patients with eczema do quite well under the care of a dermatologist who has made an accurate diagnosis.
Is it possible to prevent eczema?
The judicious use of moisturizing creams or ointments can be effective in preventing certain types of eczema.
If your symptoms are severe, your doctor may recommend prescription-strength ointments or creams. Corticosteroid pills or a shot can also be prescribed if needed.
Baby Eczema
Kids who get eczema often have family members with hay fever, asthma, or other allergies. Some experts think these kids may be genetically predisposed to get eczema, which means characteristics have been passed on from parents through genes that make a child more likely to get it.
About half of the kids who get eczema will also someday develop hay fever or asthma themselves. Eczema is not an allergy itself, but allergies can trigger eczema. Some environmental factors (such as excessive heat or emotional stress) can also trigger the condition.
About 1 out of every 10 kids develops eczema. Typically, symptoms appear within the first few months of life, and almost always before a child turns 5. But the good news is that more than half of the kids who have eczema today will be over it by the time they're teenagers.
Bibliography
Abrahamsson TR, Jakobsson T, Bottcher MF, et al., Probiotics in prevention of IgE-associated eczema: a double-blind, randomized, placebo-controlled trial. J Allergy Clin Immunol. 2007;119(5):1174-80.
Anandan C, Nurmatov U, Sheikh A. Omega 3 and 6 oils for primary prevention of allergic disease: systematic review and meta-analysis. Allergy. 2009 Jun;64(6):840-8. Epub 2009 Apr 7. Review.
Anderson C, Lis-Balchin M, Kifk-Smith M. Evaluation of massage with essential oils in childhood atopic eczema. Phyother Res. 2000;14(6):452-456.
Anderson PC, Dinulos JG. Atopic dermatitis and alternative management strategies. Curr Opin Pediatr. 2009 Feb;21(1):131-8. Review.
Berger MM, Shenkin A. Vitamins and trace elements: Practical aspects of supplementation. Nutrition. 2006; 22(9):952-5.
Biagini Myers JM, Wang N, LeMasters GK, et al. Genetic and environmental risk factors for childhood eczema development and allergic sensitization in the CCAAPS cohort. J Invest Dermatol. 2010;130(2):430-7.
Billmann-Eberwein C, Rippke F, Ruzicka T, Krutmann J. Modulation of atopy patch test reactions by topical treatment of human skin with a fatty acid-rich emollient. Skin Pharmacol Appl SkinPhysiol. 2002;15(2):100-104.
Boyle RJ, Bath-Hextall FJ, Leonardi-Bee J, Murrell DF, Tang ML. Probiotics for the treatment of eczema: a systemic review. Clin Exp Allergy. 2009;39(8):1117-27.
Bruno EJ Jr, Ziegenfuss TN, Landis J. Vitamin C: research update. Curr Sports Med Rep. 2006; 5(4):177-81.