Friendship and intimacy module
By this point in the plot, Jim and Katie have made a well-reasoned decision about having sex, they have been tested for sexually transmitted diseases, and they have a supply of condoms. Thus, they proceed to the next step. In Skills Area 6, Learning Appropriate Sexual Behavior, a range of sexual behaviors is modeled, including appropriate touching, communication skills preceding sexual relationships (e.g., asking permission), and communication skills while engaged in a sexual encounter (e.g., attending to the needs of one's partner). Limit setting and respectful compliance are demonstrated in the opening vignette. The vignettes that follow all include full nudity.
To desensitize viewers' to the discomfort caused by the explicit nature of their behavior, Katie and Jim are first seen nude individually, each at his or her own apartments, preparing for the date that will culminate in their first sexual encounter. In the next few vignettes, explicit sexual behavior, including intercourse, is graphically depicted. Jim and Katie meet in their friend's apartment. They acknowledge both their eagerness for sexual intercourse and their nervousness about adding that new dimension to their relationship.
Safe and appropriate use of a condom and spermicidal jelly is modeled as this series of vignettes is concluded. The final vignette of this skills area focuses on Jim and Katie after their sexual relationship has matured for a few months. They acknowledge their initial awkwardness and the importance of communicating their sexual needs. This skills area closes with a sexual encounter that "puts it all together" as Jim and Katie demonstrate the skills they have learned. The component skills (giving and receiving permission, assertive requests, guided hands) are combined into a free flowing, loving, and tender sexual encounter.
Skills Area 7, Communication Skills after Sexual Intercourse, involves two brief vignettes. In both, Jim and Katie engage in appropriate verbal and nonverbal communication after they have had intercourse. They mutually reinforce each other for their decision making, for being able to give specific instructions about how they like to be touched, and for pleasing each other.
Skills Area 8, Sexual Problems: Desire, Arousal, and Orgasm, uses a number of vignettes to present common problems related to the phases of sexual response, namely, desire, arousal, and orgasm. The purpose for including this section is to provide education about sexual functioning; to normalize problems of desire, arousal, and orgasm; and to teach effective problem-solving methods when sexual dysfunctions occur. Vignettes include scenes of Jim and Katie talking with their respective male and female friends/confidants, and Jim and Katie alone.
The training methodology comprises the seven learning activities detailed in Figure 59.1. The introduction sets the stage for the learning; it tells the learners the "payoff" they can expect from their investment of time and energy. The demonstration videotape provides a clear presentation of the skills that can be easily and consistently presented across diverse staff and settings. The videotape's periodic stops and the questions to assess viewers' comprehension are essential to ensure that the training achieves its instructional objectives. The role-play practice is similarly critical, because learning is not just comprehension; it is ultimately the enactment of a skill. Furthermore, the more often participants practice enacting the skill, the more polished their performances when the actual opportunities arise.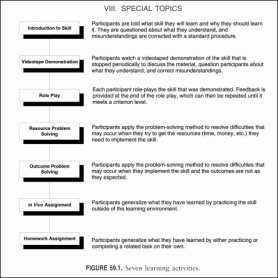 FIGURE 59.1. Seven learning activities.
The problem-solving activities are the first steps in helping participants to transfer their skills to their natural, living environments. Two types of problems are considered: how to obtain the resources required to perform a skill, and how to overcome the obstacles inherent in situations and environments when others do not respond as expected.
Provided by ArmMed Media