Sleep, mood improves after substantial weight loss
Obese adults who lose at least 5 percent of their body weight report that they sleep better and longer after six months of weight loss, according to a new study. The results were presented Tuesday at the joint meeting of the International Society of Endocrinology and the Endocrine Society: ICE/ENDO 2014 in Chicago.
"This study confirms several studies reporting that weight loss is associated with increased sleep duration," said the study's lead investigator, Nasreen Alfaris, MD, MPH, a fellow in the Department of Medicine at the Perelman School of Medicine at the University of Pennsylvania, Philadelphia.
In addition, the study found that weight loss at 6 months improved sleep quality, as well as mood, regardless of how the individuals lost the weight.
The 390 study subjects participated in the Practice-Based Opportunities for Weight Reduction at the University of Pennsylvania (POWER-UP) trial. This 2-year study, funded by the National Institutes of Health, compared three behavioral interventions for weight loss in obese adults treated in primary care practices.
Subjects (311 women and 79 men) were randomly assigned to one of three programs that provided varying amounts of support to achieve the same diet and exercise goals. The groups were: (1) usual care, in which subjects received printed educational materials during quarterly visits with their primary care provider; (2) brief lifestyle counseling, which included quarterly visits with their primary care provider, combined with brief meetings with lifestyle coaches; or (3) enhanced brief lifestyle counseling, with meal replacements or weight loss medications added to the second intervention.
Can you lose weight while sleeping?
Proper sleep can help you avoid excess weight gain and, over time, lose weight. But if you're looking to drop 10 pounds by the end of the month, sleep isn't your answer.
You might think that the more hours you're awake, the more calories you're burning, so you should be losing more weight. But you'd be wrong.
In fact, people who don't sleep enough at night risk gaining extra pounds, not losing them, according to John M. Jakicic, director of the Physical Activity and Weight Management Research Center at the University of Pittsburgh.
"I think poor sleep is a contributing factor to weight gain," says Jakicic. "When you have poor sleep or lack of sleep, you're setting a whole cascade of events in motion hormonally that could set you up for weight gain."

Less sleep = Less energy
Hormones that regulate growth and appetite are part of the equation, according to Jakicic, but equally culpable is sleep sabotage. He believes that the more you're awake, the greater the chance you'll have an extra snack or two (or three or four).
A 2013 study in the Proceedings of the National Academy of Sciences supports that theory. It found that people who don't get enough sleep are more likely to be hungry because the body needs more energy to stay awake. Unfortunately, sleepy eaters tend to consume more than enough to compensate, which leads to weight gain.
"People who are well rested don't slog through the day," says Jakicic. If your body is worn, you're not going to be bounding up the stairs to your office, and you might be less motivated to make it to the gym. Less physical activity means fewer calories burned which, over time, can lead to weight gain.
The researchers evaluated changes in weight, sleep duration and quality, and mood after 6 and 24 months of treatment. They compared subjects who lost 5 percent or more of their original body weight with those who lost less than 5 percent, regardless of their group assignment. The analyses controlled for several subject variables, including sex and age.
At month 6, subjects in both lifestyle counseling groups lost more weight on average (brief counseling: 7.8 lb; enhanced counseling: 14.7 lb) than those in the usual care group (4.4 lb), Alfaris reported.
Examining all three groups together, subjects who lost at least 5 percent of their weight at month 6 reported that they gained an average of 21.6 minutes of sleep a night, compared with only 1.2 minutes for those who lost less than 5 percent. Likewise, subjects who lost >5% of initial weight reported greater improvements on measures of sleep quality and mood (i.e., symptoms of depression), compared with subjects who lost <5%.
More sleep doesn't equal diet-level weight loss
So if you suffer from insomnia, restless leg syndrome, fibromyalgia or any other sleep or pain disorders that can make shut-eye elusive, seek treatment. And yes, if you're on a diet, getting quality, restful sleep can help you shed pounds, but it'll take awhile.
If you're properly rested, "(you're) going to find that it's easier to lose weight," says Teitelbaum. "It's going to be gradual over time. You're looking at losing, four, five or six pounds over a 10-year period."
You can't sleep yourself thin, and catching Z's will never take the place of a healthy diet or exercise. Try to focus on the quality of your rest, not the number of hours you're getting each night (within reason, of course).
"It's going to come down to the quality of sleep," Jakicic says. "I think you're going to see a big difference between people who sleep six hours and have good quality versus [those] who sleep six hours and (have) poor quality…. It's really hard to have a lifestyle that allows you to lose weight (if you don't) have the energy to go out and do more."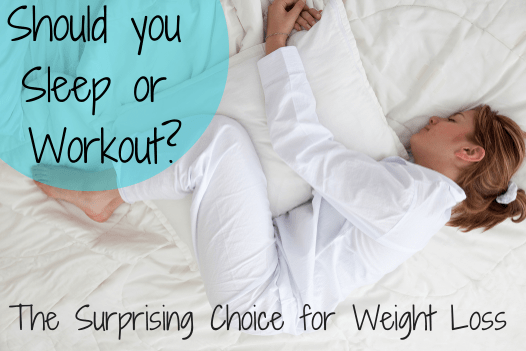 Only improvements in mood remained statistically significant at 24 months, according to Alfaris.
"Further studies are needed to examine the potential effects of weight regain in diminishing the short-term improvements of weight loss on sleep duration and sleep quality," she said.
###
Founded in 1916, the Endocrine Society is the world's oldest, largest and most active organization devoted to research on hormones and the clinical practice of endocrinology. Today, the Endocrine Society's membership consists of over 17,000 scientists, physicians, educators, nurses and students in more than 100 countries. Society members represent all basic, applied and clinical interests in endocrinology. The Endocrine Society is based in Washington, DC.
Overnight, there are two processes that cause you to lose water gradually. The first is respiration. Each time you exhale, you lose a little bit of water (exhale onto a cool piece of glass and you can see this moisture). The second is transpiration through the skin, also known as sweating. Over the course of a night, both of these processes eliminate quite a bit of water.
Then there is the tradition of using the restroom prior to the morning weigh-in. That process can eliminate up to 1 pound (0.5 kilograms) of water.
According to this water information page, the average person eliminates about 1.2 liters of water in urine each day, and also eliminates about 1 liter a day through perspiration and respiration. That's 2.2 kilograms (almost 5 pounds) of weight fluctuation happening throughout the day!
###

Aaron Lohr
.(JavaScript must be enabled to view this email address)
202-971-3655
The Endocrine Society
Provided by ArmMed Media