U.S. teens smoke more marijuana, but back off other drugs: survey
U.S. teenagers are smoking more marijuana, but backing away from other harmful drugs and doing less binge drinking, according to a report from federal health researchers released Wednesday.
Easier access to marijuana provided by new state laws allowing the drug for medical treatment may be a factor, according to the report from the National Institutes of Health.
The survey found that roughly 6.5 percent of high school seniors are smoking marijuana daily compared with 6 percent a decade ago and 2.4 percent in 1993, and nearly 23 percent of seniors said they smoked the drug in the last month.
About 4 percent of 10th graders said they smoke the drug daily and 18 percent within the last month.
"We should be extremely concerned," said Nora Volkow, director of National Institute on Drug Abuse.
The growing use parallels an increase in the potency of marijuana, so the drug can be even more harmful to developing brains than in the past, she added.
More teens are smoking marijuana in part because they see less risk from regular use, according to the "Monitoring the Future" survey. Slightly less than 40 percent of 12th graders surveyed said they see regular marijuana use as harmful, down from 44.1 percent a year ago, the report said.
Researchers said many of the teens reporting regular marijuana use say they get the drug through a medical marijuana prescription, either written for themselves or someone else. Colorado and Washington state have legalized recreational use of marijuana, while 19 other states and the District of Columbia permit some form of medical marijuana use.
A separate study also out Wednesday underscored how legalization can translate into increased use. Washington state residents will consume an estimated 175 metric tons of marijuana this year, equivalent to about 50 half-gram joints for each man, woman and child in that state, according to a study commissioned by state officials.
The consumption figures are more than double what state officials estimated ahead of last year's vote to legalize recreational use of the drug.
The Marijuana Policy Project, which advocates for legal marijuana, said Wednesday that legalizing marijuana with age restrictions might reduce marijuana use by teens.
"This data should inspire NIDA to examine the possibility that regulating marijuana like alcohol and cigarettes could be a more effective approach than the current system," said MPP spokesman Mason Tvert.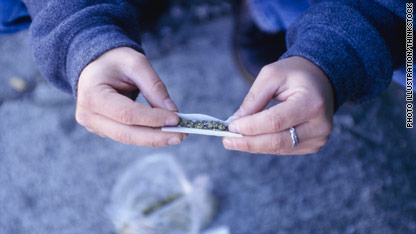 On a positive note, researchers said teenagers reported reduced use of synthetic marijuana, sometimes called "K2," or "Spice," which has been tied to toxic reactions in some users. The use of harmful inhalants also declined over the last year, the survey said.
Cocaine and heroin use continued to show gradual declines in use by teenagers, with use of both drugs at historic lows.
Alcohol use by teens also continued a steady decline, the survey found. The percentage of tenth-graders who said they recently drank five or more drinks in a row dropped to 13.7 percent in 2013 from 15.6 percent in 2012, the survey said.
More than 41,600 students from 389 public and private schools participated in this year's Monitoring the Future survey.
(Reporting by Carey Gillam in Kansas City and Jonathan Kaminsky in Olympia, Washington. Editing by Andre Grenon)
###

By Carey Gillam
Provided by ArmMed Media